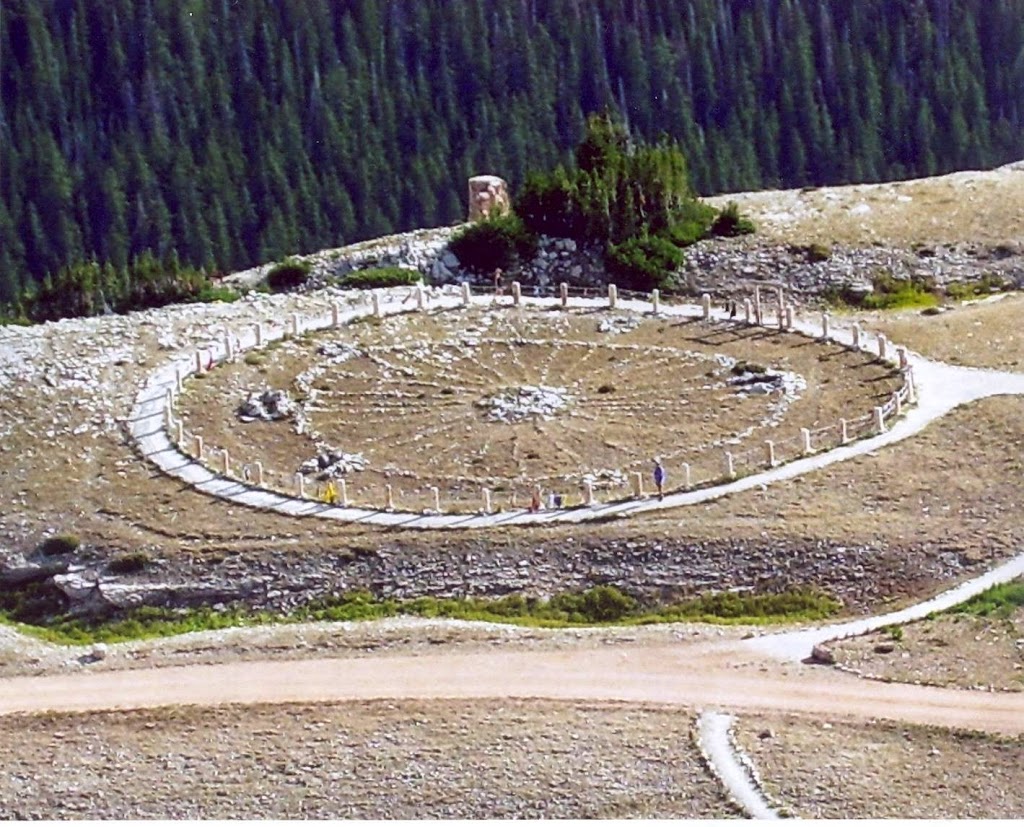 The Medicine Wheel National Historic Landmark in the National Forest
Long before Europeans landed on the shores of America, the Native peoples of this continent revered and protected the lands and natural resources that they knew as their homeland.  Native Americans have held ceremonies, made spiritual journeys, and buried their relatives according to time-honored customs and traditions on sacred lands.  These places are forever tied to our cultural identity and everyday life.
Many of these hallowed grounds are once again threatened.  Mining, reservoir projects, oil and gas development, and even recreational parks are causing tribal sacred places to become vulnerable.  For example, a mine proposed by Cortez Joint Venture, Ltd., would destroy Mt. Tenabo, a precious cultural site of the Western Shoshone.  Mount Tenabo and its surrounding area are part of Newe Sogobia, the ancestral land of the Western Shoshone.  Newe Sogobia means the people's earth mother.  Mount Tenabo has a role in Shoshone creation stories and is the site of ancient burials.  Today, the Western Shoshone still have ceremonies and gather medicinal plants there.
Medicine Mountain, in the Bighorn National Forest in north central Wyoming, is the site of a large Medicine Wheel, and remains an important focus of contemporary Native American spiritual life for members of regional tribes, including the Arapaho, Shoshone, Cheyenne, Crow, and others.  Approximately 80 feet in diameter, it is described by the Interior Department as "the largest and most elaborate Indian structure of its type."  Archeologists estimate that the area was used by prehistoric Native Americans for nearly 7,500 years.
Every day we must answer the call to fight for justice with knowledge, understanding and determination in our legal arguments and in the courts.  In the case of Wyoming Sawmills v. United States and Medicine Wheel Coalition, NARF fought to uphold the U.S. Forest Service's Management Plan for the Sacred Medicine Wheel under the Historic Preservation Plan.
At NARF, we believe that our domestic laws and social policies must provide adequate legal protection for its citizens, regardless of race.  On behalf of our clients, we seek to enforce and strengthen laws that affect the basic survival and traditions of Indian tribes.
Your generosity makes it possible to protect Native sacred places, preserve Native rights, and defend tribal sovereignty.  This holiday season, please remember the Native American Rights Fund as you plan your year-end giving.
And, when making your vacation plans for next year, try to visit at least one of the many Native American historical sites where you can learn more about tribal ancestry and history. Some suggested sites are:
• Mesa Verde National Park (Colorado)
• Aztec Ruins National Monument (New Mexico)
• Taos Pueblo (New Mexico)
• Effigy Mounds National Monument (Iowa)
• Fort UnionTrading Post (North Dakota)
• Grand Portage (Minnesota)
• Katmai (Alaska)
• Timucuan Ecological and Historic Preserve (Florida)
• Mashantucket Pequot Museum (Connecticut)
In addition, November is American Indian & Alaska Native Heritage Month.  Heritage Month is a time to celebrate the rich and diverse cultures, traditions, and histories and to acknowledge the important contributions of Native people. It's also an opportunity to highlight the important contributions of Native peoples and the shared histories between tribal nations and other communities.  Please visit the Native American Heritage Month website to read more about it.
More blog posts