Welcome to the online edition of
"A Practical Guide to the
Indian Child Welfare Act"
The Guide is intended to answer questions and provide a comprehensive resource of information on the Indian Child Welfare Act (ICWA). Those unfamiliar with ICWA are encouraged to first read the introduction to the Guide
While the topical sections are identical to the print version, the electronic copy has links to thousands of state and federal resources (cases, laws, etc.), updated through September 2011, not found in the print copy.
---

Do you need help with your ICWA case?
Use the ICWA Contacts page to find legal assistance with your case.

Acknowledgments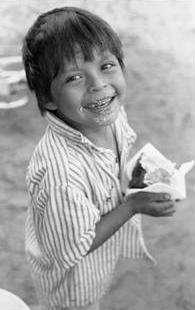 The Native American Rights Fund thanks the following for their generous financial contributions to the project.

We also thank the Advisory Group for their invaluable contributions to the project.
We would also like to recognize the NARF attorneys and staff who contributed to the project.
To see the latest Indian child welfare news and find more resources , visit ICWA Info, published by NARF in partnership with Casey Family Programs.
Print copies of the Guide are no longer available for purchase, but you may download a PDF copy of the complete publication for research or educational use.