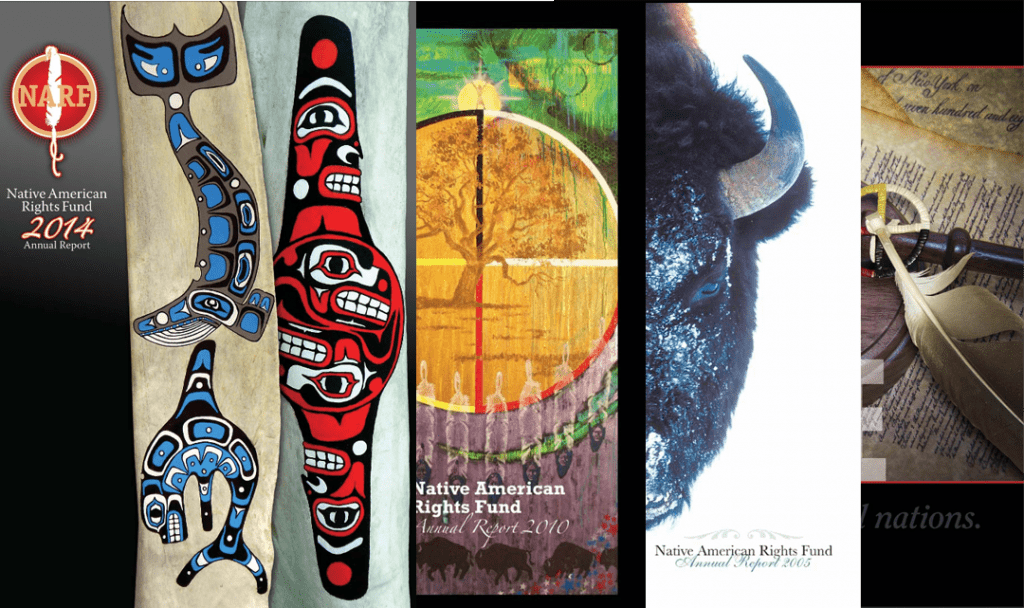 Download Annual Reports:
Financials
Support From Many Sources
NARF receives financial support from individuals, corporations, foundations, government agencies, religious groups, and tribal organizations. NARF is a 501(c)(3) charitable organization, so contributions are tax-deductible. Fee arrangements are negotiated with clients having the ability to pay.
NARF is an established non-profit organization with over 30 years of experience in grants management and accounting in accordance with generally accepted accounting standards. Each year, NARF has an audit performed by a firm of certified public accountants to ensure accountability in fiscal matters. BKD, LLP has performed the annual audits for the past several years and submits its reports to the NARF Board of Directors.
NARF's Financial Statements as of September 30, 2022 and 2021 Together With Independent Auditor's Report
NARF State Registrations
A copy of the official registration and financial information of the Native American Rights Fund may be obtained by contacting us at 1506 Broadway, Boulder, CO, 80302, 303-447-8760, or by contacting any of the following state agencies.
Certain states require written disclosures for nonprofit organizations soliciting contributions. Individual state disclosures are below.
Florida: A COPY OF THE OFFICIAL REGISTRATION AND FINANCIAL INFORMATION MAY BE OBTAINED FROM THE DIVISION OF CONSUMER SERVICES BY CALLING TOLL-FREE, WITHIN THE STATE, 1-800-435-7352 (800-HELP-FLA), OR VISITING www.FloridaConsumerHelp.com. REGISTRATION DOES NOT IMPLY ENDORSEMENT, APPROVAL, OR RECOMMENDATION BY THE STATE. Florida Registration #CH1505
Maryland::For the cost of copies and postage, from the Office of the Secretary of State, State House, Annapolis, MD 21401.
Mississippi: The official registration and financial information of Native American Rights Fund, Inc. may be obtained from the Mississippi Secretary of State's office by calling 1-888-236-6167. Registration by the Secretary of State does not imply endorsement.
Nevada: Contributions may be tax deductible pursuant to the provisions of sec. 170(c) of the Internal Revenue Code of 1986, 26 U.S.C. ¤170(c).
New Jersey:: INFORMATION FILED WITH THE ATTORNEY GENERAL CONCERNING THIS CHARITABLE SOLICITATION AND THE PERCENTAGE OF CONTRIBUTIONS RECEIVED BY THE CHARITY DURING THE LAST REPORTING PERIOD THAT WERE DEDICATED TO THE CHARITABLE PURPOSE MAY BE OBTAINED FROM THE ATTORNEY GENERAL OF THE STATE OF NEW JERSEY BY CALLING (973) 504-6215 AND IS AVAILABLE ON THE INTERNET AT www.state.nj.us/lps/ca/charfrm.htm. REGISTRATION WITH THE ATTORNEY GENERAL DOES NOT IMPLY ENDORSEMENT.
New York: Upon request, from the Attorney General Charities Bureau, 120 Broadway, New York, NY 10271.
North Carolina: Financial information about this organization and a copy of its license are available from the State Solicitation Licensing Branch at 1-919-814-5400. The license is not an endorsement by the state.
Pennsylvania: The official registration and financial information of Native American Rights Fund, Inc. may be obtained from the Pennsylvania Department of State by calling toll-free, within Pennsylvania, 1-800-732-0999.
Virginia: From the State Office of Consumer Affairs in the Department of Agriculture and Consumer Affairs, P.O. Box 1163, Richmond, VA 23218.
Washington: From the Secretary of State at 1-800-332-4483 or http://www.sos.wa.gov/charities/
West Virginia: West Virginia residents may obtain a summary of the registration and financial documents from the Secretary of State, State Capitol, Charleston, WV 25305.
Wisconsin: A financial statement of the charitable organization disclosing assets, liabilities, fund balances, revenue and expenses for the preceding fiscal year will be provided to any person upon request.
All other states – A copy of our latest annual report is available from our website or by mail at Native American Rights Fund, 1506 Broadway, Boulder, Colorado 80302.
Registration with any of these states does not constitute or imply endorsement, approval, or recommendation by that state.
Friends of NARF Informational Letters