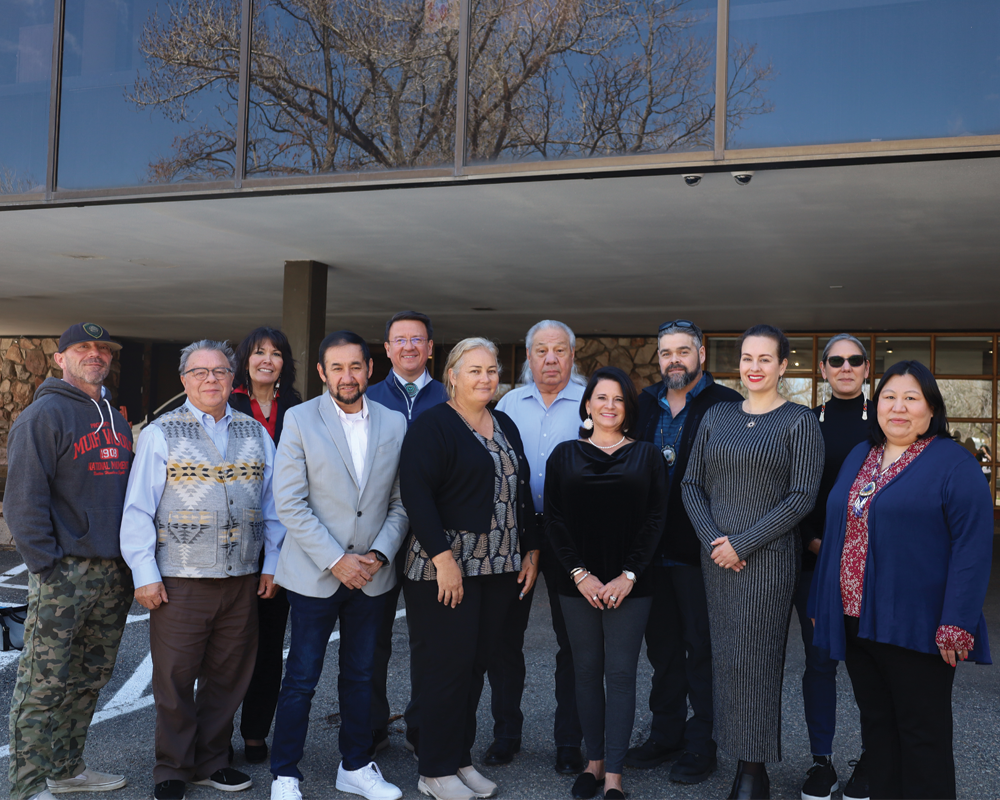 During the formation of the Native American Rights Fund, a governing board was assembled composed of Indian leaders from across the country—wise and distinguished people who were respected by Indians nationwide. Since inception, the NARF Board of Directors has continued to provide the organization their leadership, wisdom, and vision.
Board Chair: Lacey Horn, Cherokee Nation
Lacey Horn, Cherokee Nation, is the CEO of Native Advisory LLC, a strategic and financial consulting firm serving tribal leaders. She previously served as Treasurer of the Cherokee Nation from 2011-2019. In that capacity, she managed the finances of the largest federally-recognized tribe in the United States.
In 2015, Ms. Horn was appointed to the US Department of Treasury's Tribal Advisory Committee of which she serves as Chairwoman. The Native American Finance Officers Association selected Ms. Horn as "Executive of the Year" in 2014 and she appeared in Oklahoma Magazine's 40 Under 40 list in 2012.
In 2017, she received the Southern Methodist University (SMU) Distinguished Alumni Emerging Leader Award for her achievements, outstanding character, and good citizenship.
Ms. Horn earned her bachelor's degree in business administration in 2004 and Master of Science in accounting in 2005 from SMU and began her career with Hunt Oil and KPMG Chicago as an auditor.
Board Vice-Chair: Kenneth Kahn Santa Ynez Band of Chumash Indians
Kenneth Kahn, Santa Ynez Band of Chumash Indians, was first elected to serve on the Business Committee of the Santa Ynez Band of Chumash Indians in March 2003. He was elected Tribal Chairman in April 2016.
He comes from a family that has a tradition of involvement in tribal politics. His grandmother, grandfather, and father all served on the tribe's Business Committee at one time. His mother currently serves on the tribe's Education Committee.
Chairman Kahn was employed by the Chumash Casino, where he worked in the auditing department.
He is interested in focusing his efforts on educating the tribe's youth and also on instilling a renewed sense of pride in tribal membership.
Treasurer: Rebecca Crooks-Stratton, Shakopee Mdewakanton Sioux Community
Rebecca Crooks-Stratton, Shakopee Mdewakanton Sioux Community, serves as the Secretary/Treasurer of the Shakopee Mdewakanton Sioux Community (SMSC). As a member of the SMSC Business Council, she oversees the day-to-day operations of the tribal government and its relationships with its members, other governments and elected officials, and its more than 4,000 employees. Ms. Crooks-Stratton also leads Understand Native Minnesota, the tribe's strategic initiative and philanthropic campaign to improve the Native American narrative in Minnesota's schools.
Ms. Crooks-Stratton previously served one term on the SMSC Gaming Enterprise Board of Directors and chaired its Audit Committee. She also served two terms on the SMSC Gaming Commission and worked for the tribal government in administration roles from 2007-2016.
Throughout her career Ms. Crooks-Stratton has been an active member of the broader community. She is the Midwest Area Vice President of the National Congress of American Indians, where she represents tribes in the Midwest. She also serves on Governor Walz's Education Roundtable, the Minnesota Zoological Board and the University of Minnesota Foundation's Board of Trustees. Recently she served as program director at the Native Governance Center, a nonprofit that provides leadership development and governance resources to tribal nations in Minnesota and the Dakotas.
In 2017, she received a Native American 40 Under 40 award from the National Center for American Indian Enterprise Development. She also participated in the Young American Leaders Program at Harvard Business School. Ms. Crooks-Stratton has a master's degree in tribal administration and governance from the University of Minnesota Duluth. Her bachelor's degree is in American Indian studies and political science from the University of Arizona.
Executive Board Member: Rebecca Miles, Nez Perce Tribe
Rebecca Miles, Nez Perce Tribe, has served in several leadership positions on behalf of the Nez Perce Tribe including General Council Chairman for four terms, which preceded a successful campaign for an elected position on the Nez Perce Tribal Executive Committee, where she served as the first woman Chairman for two terms. Since 2009, she has served as Executive Director where she provides executive level management, policy recommendations, and strategic guidance for the Tribe.
Ms. Miles has testified in both the United States Congress and the Idaho State Legislature regarding natural resources, endangered species, and treaty rights issues. She was the lead negotiator for the 2009 Federal Columbia River Power System Accords. With her strengths and background in leadership, negotiation, and communication, Ms. Miles has spent most of her adult life advocating for Indian rights.
Ms. Miles has a B.A. in Criminal Justice from Washington State University and a M.A. in Professional Studies – Organizational Leadership from Gonzaga University.
Alternate Executive Committee: Camille K. Kalama, Native Hawaiian
Camille Kalama, Native Hawaiian, is a kanaka maoli (Native Hawaiian) from O'ahu, Hawai'i. Ms. Kalama currently serves as Director and Project Coordinator for Ko'ihonua at Hanakēhau, the land base for the organization's Hawaiian carving revitalization and land restoration programs. Ms. Kalama currently serves as a board member for the Native American Rights Fund and the NDN Collective.
Ms. Kalama worked as a staff attorney with the Native Hawaiian Legal Corporation for 15 years after clerking for Chief Justice Ronald T.Y. Moon at the Hawaii Supreme Court. She has represented clients seeking access to their kuleana lands, assisting kalo farmers in seeking the restoration of stream water to protect their traditional and customary rights, protecting iwi kupuna, and assisting Department of Hawaiian Home Lands beneficiaries in resolving various legal issues to preserve their homesteads for themselves and their families. She now puts these experiences to practice in restoring aina and supporting cultural practitioner development with Koʻihonua.
Ms. Kalama is a graduate of the William S. Richardson School of Law at the University of Hawaiʻi. She was involved in the Polynesian Voyaging Society and in 2001 was named NCAA Woman Athlete of the Year for the state of Hawaii.
Jamie Azure, Turtle Mountain Band of Chippewa
Jamie Azure, Kitagasi Kinew (Spotted Eagle), Turtle Mountain Band of Chippewa, is Chairman of the Turtle Mountain Band of Chippewa Indians (TMBCI). Chairman Azure attended the University of Minnesota and has degrees in Business Management, Advertising and Promotion, and Political Science. He has served on the TMBCI Tribal Council since December 2016 and as the Chair since January 2018. In April 2019, Chairman Azure was unanimously elected Chair of the United Tribes of North Dakota, United Tribes Technical College, and United Tribes Gaming Association.
In January 2019, Chairman Azure spoke to the masses assembled in front of the Lincoln Memorial (Washington, DC) as part of the Indigenous Peoples March. His focus was on Native Nations voting rights and the vision of unification of all tribes across this great country.
Chairman Azure owns J. Azure Construction, and as an entrepreneur, he is involved in the community through philanthropic efforts on behalf of his company. J. Azure Construction was one of the first companies to dedicate a percentage of profits to youth organizations in the Turtle Mountains. His involvement with the youth led him to becoming a leader in the community.
Chairman Azure resides in Belcourt, North Dakota, with his wife Denise and two daughters, Ashlyn and Sophia.
Geoffrey Cravatt Blackwell, Muscogee (Creek) Nation
Geoffrey C. Blackwell, Muscogee (Creek) Nation, is the Chief Strategy Officer and General Counsel of AMERIND, where he serves as executive supervisor of the Legal, Finance, IT, HR, Corporate Communications, and Critical Infrastructure teams. Blackwell contributes expertise in tribal corporate development, tribal economic diversification, and tribal broadband communications infrastructure deployment.
He serves as a Co-Chair of National Congress of American Indians (NCAI) Economic, Finance & Community Development Committee, and Co-Chair of the NCAI Technology and Telecom Subcommittee. Blackwell is also the Vice-Chairman of the Board of Tribal Advisors for the American Indian Policy Institute of Arizona State University. He has testified before U. S. Congress on seven occasions, both as a Tribal representative and as a senior federal policymaker, and before the U.S. Commission on Civil Rights. In 2020, Public Knowledge honored him with the IP3 Internet Protocol Award for his telecom policy advocacy on behalf of tribal nations.
He has served on the boards of the National Small Business Association, the National Federation of Community Broadcasters, Native Public Media (Chair), Acoma Pueblo Business Enterprises, and the Indigenous Commission for Communications Technologies in the Americas. He chaired the Regulatory Committee of the National Small Business Association and served on the Federal Communications Commission (FCC) Advisory Committee on Diversity for Communications in the Digital Age.
He is the former founding Chief of the Office of Native Affairs and Policy at the FCC and the first enrolled member of a federally-recognized tribal nation to work at the Commission. Between his two periods of federal service at the FCC, he was a Corporate Director at Chickasaw Nation Industries, Inc. Raised in Oklahoma, New Mexico, and Washington, he is a graduate of Dartmouth College and the University of Virginia School of Law. Blackwell earned an executive MBA from the Tuck School of Business and an Associate's degree in Insurance. He is Muscogee (Creek), Chickasaw, Choctaw, and Omaha.
Stephanie A. Bryan, Poarch Band of Creek Indians
Stephanie A. Bryan, Poarch Band of Creek Indians, was the first female political leader elected to the position of Tribal Chair and CEO for the Poarch Creek Indians. Elected in 2014 to this position, she is involved with legislative aspects of the Tribe and oversees all tribal operations including tribal government, Creek Indian Enterprises Development Authority, and PCI Gaming Authority. Previously, she served as Vice-Chair of the Tribal Council.
Chair Bryan has been an active and effective advocate for her Tribe on both a local and national level. As a member of the tribal council, she advocated for extending health insurance and expanding educational opportunities. She also took an active role in ensuring the opening of Poarch's new health clinic and its assisted living facility. Furthermore, Chair Bryan strongly values and appreciates her elders and believes it is vital to instill the importance of Creek culture and history into the younger generations.
On a national level, Chair Bryan represents her community with her involvement in regulations affecting Indian gaming as well as legislation affecting the Tribe and Indian Country. She has worked with numerous legislative committees as well as multiple Native American organizations such as the National Indian Gaming Commission, National Indian Gaming Association, and United South and Eastern Tribes.
Gayla Hoseth, Curyung Tribal Council
Gayla Hoseth, Curyung Tribal Council, is an Alaska Native woman and a mother of two living on her ancestral lands in Dillingham, Alaska.Ms. Hoseth serves as a tribal chief for the Curyung Tribal Council, Director of Natural Resources for Bristol Bay Native Association, Native Co-Chair on the Alaska Migratory Bird Co-Management Council, tribal representative on the EPA National Tribal Operations Committee and EPA Region 10 Tribal Operations Committee, At-Large Representative on the Alaska Department of Fish and Game Nushagak Advisory Council.
Gayla has a passion for protecting the rights of Alaska Natives and Native Americans and protecting the environment for future generations.
Robert Miguel, Ak-Chin Indian Community
Robert Miguel, Ak-Chin Indian Community, is the Chairman of the Ak-Chin Indian Community in Maricopa, Arizona, and the Chair of the Arizona Indian Gaming Association.
He has served on the Ak-Chin Tribal Council since 2014 and was first elected as Chairman of the Ak-Chin Indian Community in 2016. Before serving on the Tribal Council, Chairman Miguel had an almost 30-year career working in various capacities within his Tribe. This includes working with Ak-Chin Farms, as the Director of the Ak-Chin Department of Parks and Recreation and most recently a 17-year stint as a photojournalist for the Tribe's media publication, the O'odham Runner.
As Chairman and a Council Member, Robert Miguel has focused his energies on expanding educational opportunities for Tribal members, increasing services to the Tribe's special needs community, and promoting healthy lifestyles for Community members through wellness and recreation programs. Chairman Miguel also has been a champion of growing and nurturing the Community's cultural and traditional practices.
Chairman Miguel continues a legacy of service on the Ak-Chin Indian Community Tribal Council, following in his maternal grandfather Jonas Miguel's footsteps who previously served as Chairman in the early 1970's. Chairman Miguel lives on the Ak-Chin Indian Community reservation with his wife Connie and has seven children Robert, Jasmine, Yasmin, Jordyn, Joe, Yvonne and Stella.
Michael Petoskey, Grand Traverse Band of Ottawa and Chippewa Indians
Michael Petoskey, Grand Traverse Band of Ottawa and Chippewa Indians, served both as the founding Chief Judge for the Grand Traverse Band and on the bench for each of seven federally-recognized tribal communities in the Lower Peninsula of Michigan. He has served as the Pokagon Band of Potawatomi Indians first Chief Judge since his appointment in February 2002. He also is a member of both the National Indian Justice Center Board of Directors and the American Indian Law Center, University of New Mexico, Board of Directors.
Chief Judge Petoskey began his judicial career with the planning and implementation of the Grand Traverse Band of Ottawa & Chippewa Indians Tribal Court while he was a staff attorney for Michigan Indian Legal Services. Assisting newly affirmed tribes to develop their tribal court systems became one of his career-long interests. Today, he continues to connect Michigan tribal courts with peacemaking concepts and serves as a member of the Advisory Committee for the Native American Rights Fund's Indigenous Peacemaking Initiative.
Chief Judge Petoskey has been recognized by the Michigan Bar Journal as a Citizen Lawyer (1992) for his contributions in law to the tribal community and was named 1997 Lawyer of the Year by Michigan Lawyers Weekly. In 2000, the American Indian Law Section of the State Bar of Michigan jointly honored Chief Judge Petoskey and Michigan Supreme Court Justice Michael Cavanagh with the section's annual Tecumseh Peacekeeping Award for their leadership in moving State of Michigan courts and tribal courts away from conflict and toward cooperation. Additionally in 2013, he received the Lifetime Achievement Award from the National American Indian Judges Association in its inaugural year of making awards.
He studied law at the University of New Mexico School of Law. Upon graduating in 1983, he returned home to Michigan to practice law. He is a Viet Nam veteran, where he served as an infantry medic.
Rhonda Pitka, Beaver Village Council
Rhonda Pitka, Beaver Village Council, has served as the First Chief of the Beaver Village Council in Alaska since 2011. Prior to her tenure as First Chief, she was a Tribal Administrator of the Beaver Village Council.
Ms. Pitka was a participant in a Native roundtable with President Barack Obama in 2015 where she emphasized the importance of hunting and fishing resources and tribal right tied to those resources. She seeks more tribal co-management projects and a meaningful voice in the subsistence management in Alaska.
Not surprisingly, Ms. Pitka was nominated by members of her community and recognized in 2016 by the National Center for American Indian Enterprise Development with a "Native American 40 under 40" award for her leadership, initiative and dedication to her community.
Ms Pitka is the former Chairwoman of the Council of Athabascan Tribal Governments, where she facilitated the monthly meetings of and advocated for the ten tribal governments of the Yukon Flats.
Louie Ungaro, Muckleshoot Indian Tribe
Louie Ungaro, Muckleshoot Indian Tribe, is member of the Muckleshoot Tribal Council. An avid outdoorsman his entire life, Ungaro exercises tribal treaty rights as a fisherman, hunter and forager.
He is a fervent advocate for treaty rights and chairs the Tribe's Culture and Preservation committees. He serves as the Chairman of the Muckleshoot Tribal School Commission where his clear vision for culturally relevant and equitable education has helped double graduation rates in a few years. His leadership style personifies that of his ancestors–to be kind, generous, and a good friend to the land, water, and all those who live here.
Prior to his election, Ungaro fished the waters from Washington to Alaska as a commercial fisherman. As a Council member, he assists his tribe in diversifying the tribal economy sustainably to generate opportunities for tribal members.
---
National Support Council
The National Support Council assists NARF with fundraising and public relations efforts. Some members are prominent in the fields of business, entertainment, and the arts. Others are known advocates for the rights of the underserved. All are committed to upholding the rights of Native Americans.
Randy Bardwell, Pechanga Band of Luiseño Mission Indians
Deborah Bardwell
Jaime Barrientoz, Grande Traverse Band of Ottawa and Chippewa Indians
Wallace Coffey, Comanche
Harvey A. Dennenberg
Lucille A. Echohawk, Pawnee
Jane Fonda
Eric Ginsburg
Jeff Ginsburg
Rodney Grant, Omaha
Dr. Marion McCollom Hampton
Chris E. McNeil, Jr., Tlingit-Nisga'a
Billy Mills, Oglala Lakota
Amado Peña, Jr., Yaqui/Chicano
Stephen Pevar
Wayne Ross
Nancy Starling-Ross
Mark Rudick
Pam Rudick
Michael G. Sawaya
Ernie Stevens Jr, Wisconsin Oneida
Andrew Teller, Isleta Pueblo
Verna Teller, Isleta Pueblo
Richard Trudell, Santee Sioux
Rebecca Tsosie, Pascua Yaqui
Tzo-Nah, Shoshone Bannock
Aine Ungar
Rt. Rev. William C. Wantland, Seminole
W. Richard West, Southern Cheyenne
Randy Willis, Oglala Lakota
Teresa Willis, Umatilla
Mary Wynne, Rosebud Sioux
Pahponee, Kickapoo Tribe in Kansas/Citizen Band Potawatomi