Meet the Author
The Rights of Indians and Tribes
By Stephen L. Pevar
Presentation, Discussion and Book Signing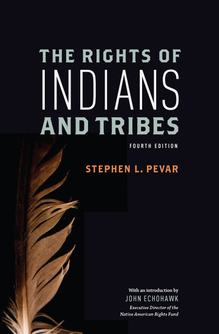 Date
: Tuesday, June 5, 2012
Time
: 5:30 – 7:00 PM
Place
: Native American Rights Fund 1506 Broadway Boulder, CO 80302
Join us for a memorable evening as Stephen Pevar discusses the genesis of his benchmark book, The Rights of Indian Tribes. See slides from his first days as a young attorney on the Rosebud Sioux Reservation and hear how needing to "learn by doing" led to a guide for all who followed. Mr. Pevar will answer questions after the presentation.
About the Author
Stephen L. Pevar is a senior staff counsel of the American Civil Liberties Union. Mr. Pevar worked for Legal Services on the Rosebud Sioux Reservation from 1971-1974, and taught Federal Indian Law at the University of Denver School of Law from 1983-1999. He has litigated numerous Indian rights cases and has lectured extensively on the subject.
The Rights of Indians and Tribes, first published in 1983, has sold over 100,000 copies and is the most popular resource in the field of Federal Indian Law. Incorporating a user-friendly question-and-answer format, The Rights of Indians and Tribes addresses the most significant legal issues facing Indians and Indian tribes today, including tribal sovereignty, the federal trust responsibility, the regulation of non-Indians on reservations, Indian treaties, the Indian Civil Rights Act, the Indian Gaming Regulatory Act, and the Indian Child Welfare Act. This fully-updated new edition features an introduction by John Echohawk, Executive Director of the Native American Rights Fund.
Reviews
"As a tribal leader, I have found Stephen Pevar's book to be both an excellent and useful resource."
—W. Ron Allen, Chairman, Jamestown S'Klallam Tribe, and Treasurer of the National Congress of American Indians
"Every Indian should read this book."
–Suzan Shown Harjo, President, The Morning Star Institute (Cheyenne & Hodulgee Muscogee)
"Stephen Pevar's book is an indispensable part of the toolkit for American Indian lawyers, leaders, and scholars. Nothing is a more accessible, comprehensive, and realistic treatment of modern day tribal sovereignty than The Rights of Indians and Tribes. This was my introduction to Indian law and still frames much of my thinking on the future of Indian law and policy. Another edition of Pevar's ground-breaking work is just cause for celebration."
–Matthew Fletcher, Michigan State University College of Law
"This is a remarkable book, and there is nothing else like it. It explains the complex subject of federal Indian law in a clear and concise way. Both lawyers and non-lawyers will find this book very helpful, as I have."
–Honorable BJ Jones, Chief Judge of the Sisseton-Wahpeton Oyate and Prairie Island Indian Community, and Director of the Tribal Judicial Institute, University of North Dakota School of Law
More blog posts