An important part of advancing Native American rights and developing Indian law, is developing the next generation of warriors for justice. To this end, for decades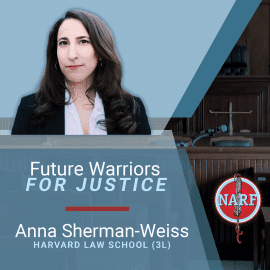 , NARF has offered a summer law clerk program to offer law students a unique opportunity to learn about the broad range of federal Indian law and tribal. This highly competitive program has trained hundreds of talented students who have gone to serve Indian Country in a variety of ways.
This week, we'd like to introduce Anna Sherman-Weiss is a rising 3rd year J.D. candidate at Harvard Law School. She graduated magna cum laude with a major in human-social Geography from Dartmouth College in 2016, also earning two minors in Public Policy and International Studies. Following graduation, she joined the New York Legal Aid Society's Tenant Rights Coalition, serving the South Bronx. In 2018, she was awarded the James B. Reynolds Fellowship for Foreign Study and pursued independent research under the supervision of Professor John Borrows, Canada Research Chair in Indigenous Law at the University of Victoria Law School.  There, she conducted a comparative study of Indigenous sovereignty and expressions of nationalism among Native nations bifurcated by the U.S.-Canadian border. She also audited courses in the world's very first joint degree program in common law and Indigenous law.
Anna has served as a law clerk to the Office of the Tribal Attorney of the Yurok Tribe, working on issues of Tribal sovereign immunity and choice-of-law, and drafting a Tribal policy for government-to-government consultation. She has also worked with NARF as a clinical intern to the Alaska office, where she drafted state statutes and regulation proposals regarding water rights and Tribal sovereign immunity. Most recently, Anna was a summer associate at Sonosky, Chambers, Sachse, Endreson & Perry, LLP, where she worked on a range of federal litigation matters within environmental law, IGRA, child welfare, tax law, criminal law, and Tribal sovereign immunity.
She is thrilled to be joining NARF's Colorado office as a law clerk this summer.
Welcome, Anna!
Currently, we are accepting applications for 2021 fall internships. Learn more or apply to our clerkships and internship program→ 
More blog posts