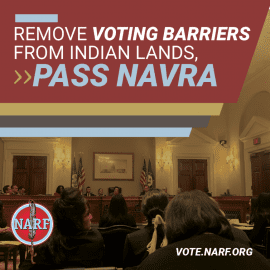 Last week, in a bipartisan effort to address the unique obstacles faced by Native American voters, Senator Ben Ray Luján and Representatives Sharice Davids and Tom Cole introduced the Frank Harrison, Elizabeth Peratrovich, and Miguel Trujillo Native American Voting Rights Act of 2021 (NAVRA) (Senate version | House version). The Native American Rights Fund, whose attorneys have fought for Native American rights—including voting rights—for more than fifty years, gives its full support to this long-needed legislation. Urgent action is needed to protect the right to vote on Indian lands and no bill goes further to protect Native voting rights.
We, as a nation, repeatedly have rejected racist policies that restrict access to the ballot. However, in some states and municipalities, racist policies and voter suppression continue to hobble Native American voters. For fifty years, the Native American Rights Fund has supported Native voters as they fight in courts for equal access to the ballot. Tellingly, in voting rights litigation, Native Americans have won an astounding 90+% of the cases they have brought. Federal action is urgently needed to address abuses at the state and local level and set baseline, consistent voter access on Indian lands.
NARF Staff Attorney Jacqueline De León described, "We have to address ongoing discriminatory policies at the state and local levels. We need a federal policy that sets a baseline of access and prevents continuing abuses. The newly introduced Native American Voting Rights Act helps do that."
In order to protect the right to vote on Indian lands, any legislation passed must address the distinct issues confronting Native American voters, including:
Geographic isolation, often with lack of reliable transportation and poor access to distant polling and registration locations;
Non-traditional mailing addresses, overcrowded housing, homelessness, and housing instability
Lack of residential mail delivery and limited access to post offices
Lack of access to affordable and reliable broadband service;
Native language translation needs, including non-written, during voting process;
Strong socioeconomic challenges, such as poverty and unemployment;
Cultural and political isolation; and
Historic and ongoing mistrust of state and local governments.
Learn more about the legislation and how it addresses the unique obstacles faced by Native American voters →
More blog posts