Oral Arguments March 21
On Tuesday March 21, 2023, beginning at 10 a.m. P.T., the U.S. Court of Appeals for the Ninth Circuit will hear oral arguments in Apache Stronghold v. U.S. The Native American Rights Fund recognizes the critical importance of this case for tribal nations and their sacred places.
Many tribal nations practice land-based religions and their ability to practice religious ceremonies, traditions, and ways of life depend on the protection of these places. The outcome of this case will have a drastic impact on the over 400 tribal nations whose homelands and land-based religions fall under the Ninth Circuit's jurisdiction.
Amicus Brief Submitted: January 2023
The week of Jan. 10, 2023, the Tohono O'odham Nation, Tonto Apache Tribe, San Juan Southern Paiute, Association on American Indian Affairs, and the National Association of Tribal Historic Preservation Officers submitted an amicus brief in Apache Stronghold v. United States. The brief urges the U.S. Court of Appeals for the Ninth Circuit to recognize the protections of the Religious Freedom Restoration Act to prevent a foreign mining company, Resolution Copper, from destroying a sacred place the Apache call Chí'chil Biłdagoteel, which translates into English as "Oak Flat." Tribal nations in the Southwest have held Oak Flat as sacred ceremonial ground since time immemorial.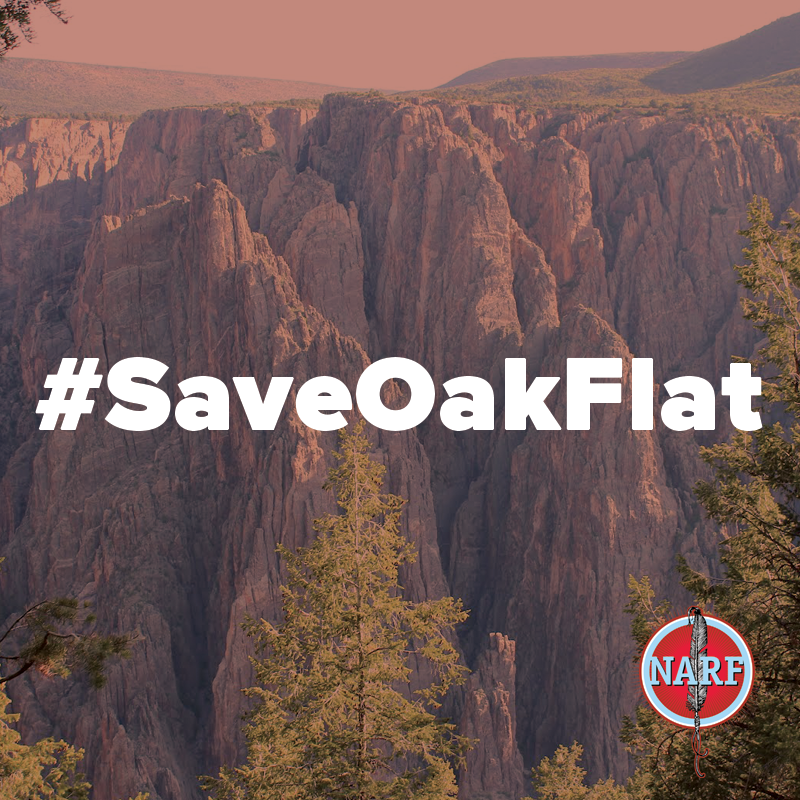 "Every Tribe and Native organization listed on this legal document supports the Apache Stronghold organization in its effort to protect Oak Flat from destruction," said Native American Rights Fund (NARF) Executive Director John Echohawk. "For Native American religion and culture to survive, Native people must be able to practice their way of life in sacred places. We ask the Ninth Circuit to apply the legal protections that will stop a corporation from defiling Oak Flat so that tribal religious practices may survive."
The brief asks the Ninth Circuit to reverse the District Court's denial of a preliminary injunction that would have stayed the land transfer of Oak Flat to Resolution Copper. If Resolution Copper is allowed to build its mine, the mine will effectively swallow Oak Flat into a massive crater. This will strip the Apache and other tribal nations of their ability to practice many of their religious ceremonies and traditions, all to serve the short-term economic interests of Resolution Copper. A negative ruling from the court would also threaten other sacred places moving forward.
"Tribal nations maintain deep connections and responsibilities to care for and protect their sacred places for their next generations. Tribal advocacy has long protected these sacred places and this brief makes clear that tribes will continue this fight," said NARF Staff Attorney Beth Wright.
Colonization has dispossessed tribal nations of large portions of their traditional territories. As a result, many sacred places are now under the control of federal and private ownership. This has already strained the religious practices of tribes and tribal citizens, who depend upon access to the plants, animals, and natural resources in their sacred places.
"Land exchanges like the proposed transfer of Oak Flat to Resolution Copper threaten the culture and daily life of Native peoples who exercise land-based religious practices," said NARF Staff Attorney Jason Searle.
NARF and Munger, Tolles & Olson, LLP represent the Tribes and Native organizations that submitted the amicus brief. Tribes have lived within, worshipped upon, and cared for Oak Flat and its surrounding area since time immemorial. It is important to protect Oak Flat for the tribal nations' next generations.
Unfortunately, the court did not allow the amicus brief to be filed.
More blog posts