UPDATE: On Friday, August 11, 2023, United States District Judge David Nuffer of the United States District Court of the District of Utah granted motions to dismiss the cases challenging the Bears Ears National Monument designation. Congratulations to the tribal nations and so many people who fought tirelessly to protect this one-of-a-kind landscape and all that it contains!
Original Post (December 2022): Advocacy for sacred lands continues, as the Hopi Tribe, Navajo Nation, Ute Mountain Ute Tribe, and the Pueblo of Zuni intervened in two lawsuits in Utah. The lawsuits threaten to remove protections from the Bears Ears National Monument for which Native peoples advocated for many decades.
"Bears Ears sustains life. Bears Ears provides food, medicine, cultural items, and ceremony sites," said Zuni Pueblo Lieutenant Governor Carleton R. Bowekaty. "As sovereign nations and Bears Ears National Monument co-managers, we have the right to intervene in these lawsuits. As stewards and people of this land, we hold a responsibility to protect Bears Ears."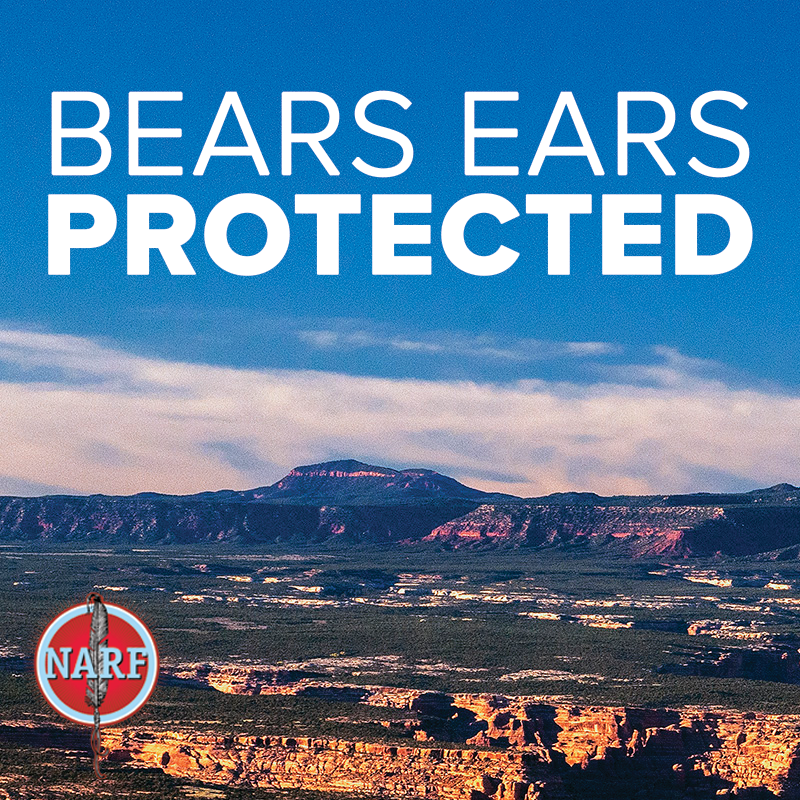 The tribes filed a motion to intervene on Nov. 18. The two lawsuits, Garfield County v. Biden, filed by the state of Utah and two Utah counties, and Dalton v. Biden, filed by recreationalists and a mining company, seek to overturn President Biden's 2021 proclamation that reaffirmed Bears Ears National Monument's original boundaries. Through the proclamation, President Biden sought to correct action taken by then President Trump, who issued a 2017 proclamation purporting to divide the monument into two much smaller parcels, which exposed 85% of the original monument to vandalism and exploitation by extractive industries. The Native American Rights Fund (NARF) represents the Hopi Tribe, Ute Mountain Ute Tribe, and the Pueblo of Zuni in the motions to intervene.
The court consolidated the Garfield County and Dalton lawsuits into one. On December 8, 2022, U.S. Magistrate Judge Paul Kohler granted the Tribes motions to intervene.
"The two lawsuits seek to eviscerate the Antiquities Act and deprive Bears Ears of the protections it so desperately needs," said NARF Deputy Director Matthew L. Campbell. "The tribal governments will fight to protect these places."
During the four years between the Trump and Biden proclamations, private interests lined up to exploit a region that has drawn people to it for more than 13,000 years. Hard rock miners staked claims that threaten the health and welfare of local Indigenous communities, perpetuating the tragic legacy of uranium mining in the region. The oil and gas industry flooded the Bureau of Land Management with requests to exploit 60,000 acres within original monument boundaries.
"At Bears Ears, the Hopi, Ute Mountain Ute, and Zuni tribal governments continue their efforts to protect a shared natural treasure against destructive private interests benefiting a few at the expense of Indigenous peoples and the public writ large," said NARF Staff Attorney Jason Searle.
Read the Motion to Intervene in: Garfield County v. Biden and Dalton v. Biden.
Read More about the long-standing legal efforts to protect Bears Ears
More blog posts