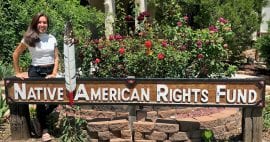 At NARF, we are dedicated to supporting the next generation of Indian law lawyers, and one way we do this is through our Law Clerk Program. Today, we're featuring Beth Wright, a law clerk in our Boulder, CO, office this summer.
Beth Wright was born in Albuquerque, New Mexico, and is from the Pueblo of Laguna. Beth is the daughter of Phyllis Martinez and John Wright. Her mother is from the Pueblos of Laguna and the Taos, and her father is from upstate New York.
Beth received a Bachelor of Arts in Economics from Syracuse University. At Syracuse, Beth was a member of the track and field and cross country teams and was captain of both teams her senior year. After graduating from Syracuse, Beth combined her passions for running and working with Native youth and began work at a non-profit called Wings of America. Wings' mission is to promote the health and wellness of Native communities through running and advocating for Native youth on reservations. At Wings, Beth was able to work directly with Native youth.
Beth now attends the University of New Mexico School of Law. She is pursuing an Indian Law Certificate along with her juris doctor and is the submissions editor for the Tribal Law Journal.
Beth still is dedicated to running and feels that running will be what always keeps her closest to her Indigenous heritage. Beth has run the Boston Marathon three years in a row and hopes to run the Boston Marathon 10-years in a row. Although Beth has had the opportunity to run in many different places, her favorite place to run will always be on the dirt roads near her home at Laguna Pueblo.
Welcome, Beth!
More blog posts