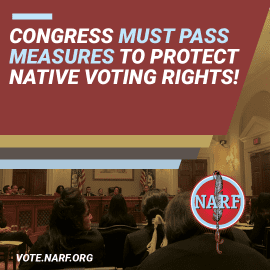 On Tuesday, Nov. 2, Senators Leahy (D-Vt.), Durbin (D-Ill.), Manchin (D-W.Va.), and Murkowski (R-Alaska) announced that they will be coming together to support a bi-partisan version of the John R. Lewis Voting Rights Advancement Act (VRAA), which restores the Voting Rights Act and includes the provisions of the Frank Harrison, Elizabeth Peratrovich, and Miguel Trujillo Native American Voting Rights Act of 2021 (NAVRA).
Native American Rights Fund (NARF) Staff Attorney Jacqueline De León reacted to the announcement, "We are thrilled that Senators Leahy, Durbin, Manchin, and Murkowski are taking this important step to protect the Voting Rights Act and ensure that Native Americans have equal access to the vote. Importantly, this bi-partisan voting rights legislation includes provisions that address the unique barriers that are being erected to disenfranchise Native voters."
For years, NARF has represented Native American voters as they successfully used the Voting Rights Act to fight for equal access to voting resources. The VRAA takes important steps to restore the Voting Rights Act. NARF has also identified specific obstacles faced by Native voters and called on the federal government to pass baseline protections so that Native voters do not have to again and again sue states and municipalities to allow them equal access to voting resources. Last week, Ms. De León was invited to testify in front of the Senate Committee on Indian Affairs about Voting Matters in Native Communities.
During that hearing, Senator Murkowski made the following statement in her opening remarks, "I have been inspired by the long and storied history of how Native Americans have fought to participate in and improve our nation through the democratic process. In Alaska, we are proud to share the legacy and contributions of early Alaska Native civil and voting rights leaders, including Elizabeth Peratrovich."
"Senator Murkowski's support for the bill and for Native voting rights shows that she has been listening to Alaska Native voters and realizes the absolute importance of making long overdue progress to establish and protect voting rights for this land's first peoples," said De León.
With this statement of support, Senators Leahy, Durbin, Manchin, and Murkowski join a long list of individuals and organizations that have expressed their backing for legislation to protect Native voting rights. NARF joined multiple tribal organizations and civil rights organizations in their strong endorsement of NAVRA, which was incorporated into the John R. Lewis Voting Rights Advancement Act. This Native American Heritage Month we reiterate that the first peoples of this land should not be the last to vote.
More blog posts