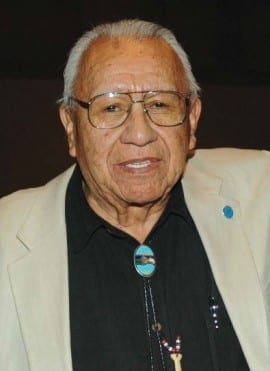 Former NARF board member Billy Frank Jr., died Monday, May 5, at age 83.  He was a fine man, a fiery leader, and a hero for Indian rights.  Everyone in the NARF family—members, staff, board of directors—will miss his warmth, generosity, and strength of conviction.
A Nisqually Tribal member, Frank grew up fishing for salmon and steelhead on the Nisqually River. Frank was first arrested for salmon fishing as a boy in 1945 — an event that led him on a long campaign for tribal rights. He and others were repeatedly arrested as they staged "fish ins" demanding the right to fish in their historical waters, as they were guaranteed in treaties when they ceded land to white settlers in the 19th century.
He was on the front line when the battle over treaty-guaranteed Indian fishing rights erupted in the 1960s and 1970s. His perseverance landed him in jail more than 50 times but helped lead to reaffirming the tribal treaty fishing rights when the U.S. v. Washington (Boldt Decision) was decided in 1974. NARF represented five tribes in that litigation, including Nisqually.
The ruling, supported by the Supreme Court in 1979, reaffirmed the treaty-protected fishing rights of the tribes. Among other things, the ruling stated that the tribes have a right to catch up to fifty percent of the harvestable resource, and that the state and the tribes must manage the resource as co-managers.
As Chairman of the Northwest Indian Fisheries Commission, Frank worked to achieve a number of key agreements between the tribes and various local, state, and federal officials that further strengthen treaty-guaranteed fishing rights and environmental protection laws. His involvement in areas like the unique Timber-Fish-Wildlife Agreement, the Chelan Agreement (a water resources planning document), and the Centennial Accord placed Frank in a powerful leadership role for Indian and non-Indian alike. It's a leadership role that's been recognized from Olympia to Washington, D.C.
More blog posts