The U.S. District Court, District of Montana, granted the Blackfeet Nation's motion to intervene in Glacier County Regional Port Authority v. Laurie Esau. on November 15. The tribal government will defend its sovereign authority in a dispute over the attempted enforcement of a state law on Blackfeet tribal land.
"The sovereign Blackfeet Nation existed before it negotiated a treaty with the United States in 1855, and well before Montana passed H.B. 702, a state law applicable only within state and local jurisdictions," said Native American Rights Fund (NARF) Staff Attorney Mark Carter. "The bureau's attempt to enforce a state law on the Blackfeet Nation threatens the integrity of the Nation's sovereignty will not go unchallenged."
In accordance with Blackfeet Nation Covid-19 public health laws, the Glacier County Regional Port Authority denied a board member entry to a meeting held on the Blackfeet Reservation at Blackfeet Community College in November 2021. The board member filed a complaint against the port authority with the Montana Human Rights Bureau. The bureau determined that the port authority did not comply with H.B. 702, a Montana public health law that requires local and state agencies to provide services on state and local land regardless of a person's Covid-19 vaccination disclosure or status.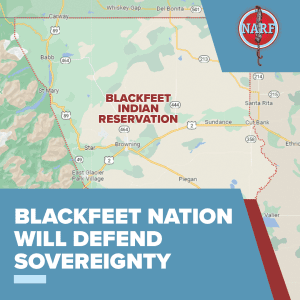 "The State of Montana cannot enforce H.B. 702 based on events that occur on Blackfeet Nation soil. The Nation intervened because the Montana Human Rights Bureau overreached its authority and encroached upon the Nation's sovereignty by attempting to enforce H.B. 702," said Carter.
Article IV of the Treaty of 1855 outlines jurisdictional rights retained by the Blackfeet Nation that the U.S. agreed would remain beyond the reach of state and local laws. "H.B. 702 applies on lands governed by the laws of Montana, not on the Blackfeet Reservation," said NARF Staff Attorney Jason Searle. "In the Treaty of 1855, the United States promised the Nation the right to exercise exclusive jurisdiction on its lands. Decades later, it reaffirmed that promise by requiring Montana to disclaim jurisdiction over Indian lands as a condition of statehood."
More blog posts