On Wednesday, November 9, the Supreme Court will hear oral argument in Haaland v. Brackeen, the constitutional challenge to the Indian Child Welfare Act (ICWA). The argument will begin at 10:00am EST (9:00am Central / 8:00am Mountain / 7:00am Pacific / 6:00am Alaska / 5:00am Hawaii). Below is some helpful information for listening to oral argument and also for amplifying support for ICWA.
Oral Argument Details
The Supreme Court has granted extended oral argument and each side will have 50 minutes. The argument is expected to last for two hours, from 10:00am to 12:00pm EST.
How to Listen to Oral Argument
Unfortunately the Supreme Court does not provide a live video feed for oral arguments, but you can still listen live or listen to a recording.
If you would like to listen to the oral argument in real time:  The link for live audio is on the Supreme Court website or on CSPAN. 
If you would like to listen to the recording of the oral argument: Audio recordings and a transcript of the oral argument will be on the Tribal Supreme Court Project's case page when they are available.
During oral argument there will also be an event hosted by the Protect ICWA Campaign on the steps of the Supreme Court.  There will not be speakers, but instead there will be a drumming, songs, and prayers.  If you'd like to learn more, information is here.
How to Show Your Support for ICWA!
There's a Protect ICWA Instagram account, a Protect ICWA Twitter account, a Protect ICWA One Pager for downloading, and a Protect ICWA Petition where you can show your support.  Many interviews and articles can be found at the Protect ICWA Linktree.  
How to Access the Briefs in the Case
All briefs filed in the case are on the Tribal Supreme Court Project's case page.  In addition, summaries of each of the pro-ICWA amicus briefs and links directly to each brief are available here. 
---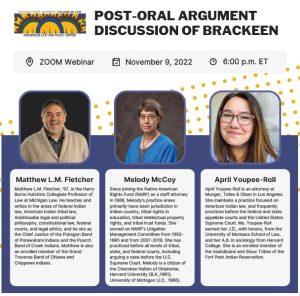 Learn more about Brackeen v. Haaland (formerly Brackeen v. Bernhardt)
More blog posts