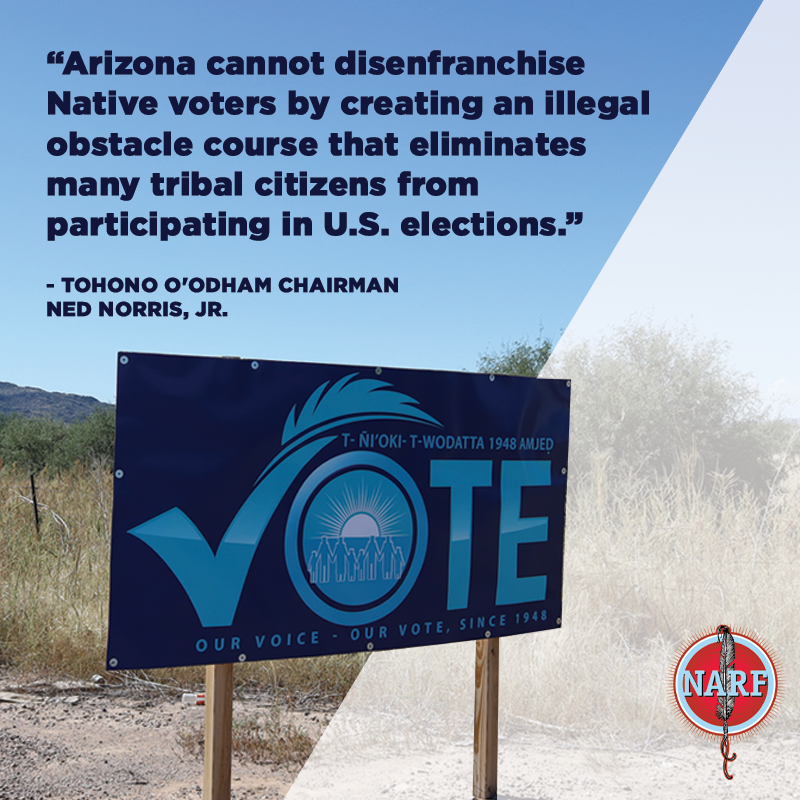 On November 7, 2022, the Tohono O'odham Nation and the Gila River Indian Community filed a lawsuit in the U.S. District Court for the District of Arizona challenging the proof of address requirements included in Arizona H.B. 2492. Under the new law, individuals must provide a government-issued photo ID that contains or is paired with another document that contains the person's current physical address, or the individual must provide two documents that contain their current physical address.
The requirements ignore the lack of standardized addressing on homes on tribal lands in Arizona, which will make it difficult if not impossible for many tribal members to register to vote. Homes on tribal reservations in Arizona are significantly more likely to lack a standard physical address than homes in non-Native areas. The lack of postal delivery also means most residents of the two tribes' reservations do not have any documents that include both their name and an address corresponding with the physical location of their home.
If Arizona implements the new requirement, most people who lack a standard physical address on their home will be completely unable to register to vote. Others who lack a standard physical address will be unable to vote until obtaining a standard street address for their home—a severely burdensome process, beyond the control of the individual, that can take years, or even decades.
The new restrictions do not comply with federal voter registration requirements in the National Voter Registration Act. That law requires states to use the federal voter registration form for federal elections.
"Arizona cannot disenfranchise Native voters by creating an illegal obstacle course that eliminates many tribal citizens from participating in U.S. elections. The inequitable effect that H.B. 2492 would have on Native voters who live on the Tohono O'odham reservation is absolutely unconstitutional and severely restricts our freedom to vote," said Tohono O'odham Chairman Ned Norris, Jr.
"The proof of address requirements in H.B. 2492 is a way for elected officials to pick and choose who can vote in Arizona, however, the Tohono O'odham and Gila River tribal governments will defend the legal rights that our peoples share with other U.S. voters," said Gila River Indian Community Governor Stephen Roe Lewis.
Represented by the Native American Rights Fund (NARF), the Lawyers' Committee for Civil Rights Under Law, and Osborn Maledon, P.A., the tribal governments requested an injunction to stop H.B. 2492 from taking effect on behalf of both tribal governments.
"H.B. 2492 will disenfranchise Native voters with non-traditional addresses that are commonplace on tribal lands. The fundamental right to vote cannot be limited to only those with physical street addresses, particularly where the measure ensures many Native voters will be unable to meet that discriminatory requirement," said James Tucker, Senior Special Counsel, Lawyers' Committee for Civil Rights Under Law.
"Arizona's discriminatory proof of address requirements will disproportionately affect residents on Native American reservations across Arizona. NARF proudly represents the Tohono O'odham and Gila River tribes in taking a stand on this matter for the rights of their affected members," said NARF Staff Attorney Allison Neswood.
More Cases