BACKGROUND: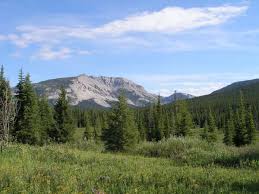 Located along the Rocky Mountain front in Eastern Montana, the Badger-Two Medicine holds profound cultural, spiritual, and historical importance to the Blackfeet Nation and encompasses many of their most sacred places. "The Badger-Two Medicine is a place of power known to our people as Miistakis, the 'Backbone of the World.' Our people communicate with the Creator and find healing in the Badger-Two Medicine. The Blackfeet Nation has fought for generations to protect this place where our people can speak to Creator Sun while standing on Mother Earth," said Blackfeet Tribal Business Council Secretary Patrick Armstrong.
CASE UPDATES:
June 2020: Circuit Court Ruling
On June 16, 2020, the United States Court of Appeals for the DC Circuit issued a ruling in Solenex v. Bernhardt, a case about the protection of the Badger-Two Medicine Area, which is an area sacred to the Blackfeet Nation and where the Tribe possesses treaty-reserved rights. NARF represented the Blackfeet Nation as an amicus party at the federal district court and again at the DC Circuit.
In the early 1980's, the United States issued an oil and gas lease to Solenex's predecessor. Recognizing the Badger-Two Medicine Area's cultural and spiritual importance as well as its unique environmental value, Congress later withdrew the area from oil and gas leasing, but allowed existing lease-holders, including Solenex, to keep their leases. However, Solenex was never able to secure a drilling permit, and eventually sued the United States over that issue.
The United States ultimately decided to cancel Solenex's oil and gas lease, reasoning in part that the Blackfeet Nation's religious, cultural, and treaty rights were not sufficiently considered in its decision to issue the lease. A federal district court vacated the agency's decision, concluding that it had delayed the cancellation for too long and Solenex built up reliance interests during that period of time. The decision, authored by Judge Patricia Millett, unanimously held that the lower court was wrong in that assessment. It concluded that delay in agency decision-making alone is not unlawful. Moreover, the delay in this case was reasonable under the circumstances and Solenex had not built up any reliance interests. In fact, the United States offered to refund nearly all of its expenses.
September 2023: Protected After Settlement
On September 1, 2023, the United States reached a settlement in Solenex LLC v. Haaland. Under the agreement, Louisiana-based Solenex—which had been fighting to reestablish a cancelled oil and gas lease in the Badger-Two Medicine—has agreed to relinquish its lease to drill for oil and gas within the region.
"We celebrate this victory over destructive oil and gas exploitation that would have brought devastating environmental harm to our sacred place," said Blackfeet Tribal Business Council Secretary Patrick Armstrong.
More Cases