After decades of advocacy by Indigenous Peoples, the United Nations General Assembly adopted the Declaration on the Rights of Indigenous Peoples in 2007. The Declaration can be an impetus for change, but it is only a framework. Implementation will require sustained effort. Laws and policies must change to fulfill the Declaration's promises. To that end, NARF and the University of Colorado Law School (Colorado Law) created The Implementation Project. Find the latest news and updates from the project at https://un-declaration.narf.org/ 
About the Project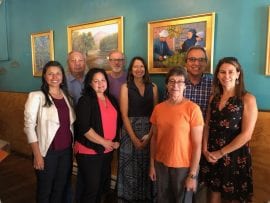 In 2007, following decades of advocacy by indigenous peoples, the United Nations General Assembly adopted the Declaration on the Rights of Indigenous Peoples (Declaration).
Today's challenge is to realize the promises of the Declaration in the lives of indigenous peoples. In 2018, the University of Colorado Law School (Colorado Law) and the Native American Rights Fund (NARF) committed to working on this challenge in the context of American Indian, Alaska Native, and Native Hawaiian rights. Together they launched the joint "Project to Implement the U.N. Declaration on the Rights of Indigenous Peoples in the U.S." by co-sponsoring a Conference at the University of Colorado Law School in Boulder, Colorado, on March 15–16, 2019. Over two days, attorneys, scholars, tribal leaders, activists, students, and others discussed challenges in federal Indian law and the potential role of the Declaration in advocacy efforts. Collectively, this cohort considered advocacy opportunities in language rights, business and human rights, religious freedoms, cultural rights, Indian child welfare, climate change and environmental policy, and technology, media and communications.
The Project has multiple aims, including to foster awareness of the Declaration in Indian Country and to work closely with indigenous leaders on implementation efforts. The Project partners with non-governmental organizations, universities, and organizations in furtherance of indigenous peoples' human rights, while advancing education about the Declaration. It also fosters relationships among attorneys, tribal members, and others interested in the broader effort. While this is primarily a legal advocacy project, its participants include both lawyers and nonlawyers, some of whom are tribal leaders, traditional cultural practitioners, and members of tribal communities. Indigenous peoples' lifeways, values, and knowledge always guide this Project.
Read more about NARF's work with indigenous people at the United Nations.
More Cases