On June 29, 2022, the U.S. Supreme Court, in a 5-4 decision, overturned the long-held understanding that states do not have authority to prosecute non-Indians who commit crimes against Indians in Indian country. The Court, in Castro-Huerta v. Oklahoma, held that "the Federal Government and the State have concurrent jurisdiction to prosecute crimes committed by non-Indians against Indians in Indian country" which strikes against tribal sovereignty and jurisdiction to protect tribal citizens. The consequences of the decision–for Tribal Nations, the federal government, and states–will take time to unravel.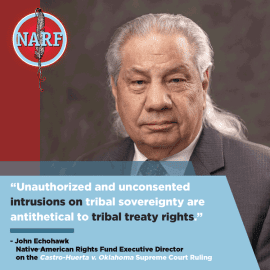 "The Supreme Court's decision today is an attack on tribal sovereignty and the hard-fought progress of our ancestors to exercise our inherent sovereignty over our own territories," said National Congress of American Indians (NCAI) President Fawn Sharp. "It was only a few months ago that Congress loudly supported tribal sovereignty and tribal criminal jurisdiction with the passage of the Violence Against Women's Act, reaffirming the right of Tribal Nations to protect their own people and communities, but make no mistake, today, the Supreme Court has dealt a massive blow to tribal sovereignty and Congress must, again, respond."
John Echohawk, Executive Director of the Native American Rights Fund (NARF) agreed. "Unauthorized and unconsented intrusions on tribal sovereignty are antithetical to tribal sovereignty and tribal treaty rights."
The Castro-Huerta case was a continuation of the 2020 McGirt decision, which reaffirmed the reservation lands of the Muscogee (Creek) Nation and, in effect, reaffirmed that much of Oklahoma remains Indian country to this day for legal purposes. In response, the state of Oklahoma has filed multiple suits trying to overturn or weaken the McGirt decision. With today's decision, Oklahoma has not only weakened a component of the McGirt case, but has fundamentally altered the long-established understanding of how criminal jurisdiction over non-Indians functions with respect to the federal government, state governments, and Tribal Nation governments.
In the dissent, Justice Gorsuch stated: "Where this Court once stood firm, today it wilts. After the Cherokee's exile to what became Oklahoma, the federal government promised the Tribe that it would remain forever free from interference by state authorities. Only the Tribe or the federal government could punish crimes by or against tribal members on tribal lands. At various points in its history, Oklahoma has chafed at this limitation….Where our predecessors refused to participate in one State's unlawful power grab at the expense of the Cherokee, today's Court accedes to another's."
NARF and NCAI will continue to analyze the decision and its consequences. Read the Opinion: https://www.supremecourt.gov/opinions/21pdf/21-429_8o6a.pdf
Watch Tribal Leader Virtual Roundtable:
NARF and NCAI held a tribal leader virtual roundtable on Thursday, July 7, 2022, to discuss the ramifications of the case and potential next steps to defend tribal sovereignty.
More blog posts