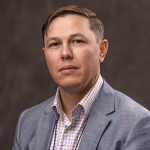 The Native American Rights Fund (NARF) announced the appointment of former NARF Staff Attorney Matthew L. Campbell (Village of Gambell) to the new role of Deputy Director. "We're pleased that Matthew Campbell will provide an additional prong of leadership to the Native American Rights Fund as our Deputy Director," said NARF Executive Director John Echohawk.
"We're grateful that he will apply his aptitude and creativity towards helping NARF achieve a shared vision of sustainable growth, and that our donors, board, staff, and clients have helped us reach a place where we can restructure the organization strategically for the future," said Echohawk.
Campbell will oversee the logistics and organizational strategy of deploying resources to support the caseload of the 23 staff attorneys who represent Indian Country from offices in Boulder, Anchorage, and Washington D.C. "I'm deeply honored to serve Native people in this role," said Campbell. "I envision this position as a fantastic opportunity to help the Native American Rights Fund build the capacity to broaden our support for Indian Country as well as support our attorneys and staff in undertaking this important work."
Introducing NARF Deputy Director Matthew L. Campbell
Currently, NARF seeks two qualified candidates for staff attorney positions, one in NARF's headquarters offices in Boulder, and one in Washington D.C. For details of these vacancies, visit: https://www.narf.org/contact-us/join-team/.
More blog posts