On May 11, 2022, the Office of the Assistant Secretary–Indian Affairs released a report on the federal records related to the Federal Indian Boarding School policy and era. The report addresses the federal government's role in a policy that (during the 19th and 20th centuries) forcibly removed Native American children from their homes, the legacy of this policy, and recommendations for next steps to begin the process of healing. This report is a result of the Federal Indian Boarding School Initiative, created by Secretary of the Interior Deb Haaland in June 2021. Secretary Haaland established the initiative to address the federal government's role in operating and overseeing Indian boarding schools and to review the continued impacts of federal Indian boarding school policies and laws.
The report arrives as the Truth and Healing Commission on Indian Boarding School Policies Act remains pending in both the House and the Senate. If passed, this act will allow for a Congressional commission to formally investigate and record the history and continued impact that Indian boarding schools and federal Indian boarding school policies have had on Indigenous people and communities.
Native American Rights Fund (NARF) Staff Attorney Beth Wright responded to the report's release, "The Native American Rights Fund is committed to supporting tribes as they engage with the federal government in response to this report and the pending Truth and Healing bill. This report is an important step for the United States to take as it begins to address the traumatic history of Indian Boarding schools."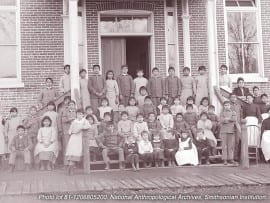 From 1819 through the 1970s, Indigenous children were forcibly removed from their homes, families, and communities. These children were placed in one of at least 408 U.S. government-supported Indian boarding schools in locations across the country. Disguised as educational institutions, these Indian boarding schools furthered the federal government's goals to dispossess Indigenous people from their land, assimilate hundreds of thousands of Indigenous children into non-Native culture, and erase Indigenous identities. Indian boarding schools often prohibited Indigenous children from speaking their languages and banned them from practicing their cultures and traditions. Using these techniques, the government sought to erase Indigenous peoples completely.
Many children did not survive the Indian boarding school era and many of those that returned to their communities had endured significant abuse. The effects of this era live in Indian boarding school survivors and continue to be felt in Indigenous communities today through various forms of trauma. To provide a path toward truth, justice, and healing, it is essential to understand and acknowledge the history and effects of this era.
Staff Attorney Beth Wright recently joined the NARF legal team to advance NARF's commitment to addressing boarding school history and trauma and the accompanying efforts toward truth and reconciliation. Her position is made possible by the Christensen Fund, which shares a complementary mission of advancing the inherent rights and self-determination of Indigenous peoples.
Boarding school survivors and their descendants can connect with the National Native American Boarding School Healing Coalition for resources and support. Educators responsible for teaching future generations about U.S. history, and people seeking to understand more about federal Indian boarding school history can learn more through the resources below.
BOARDING SCHOOL HEALING RESOURCES:
More blog posts