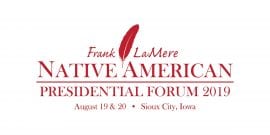 The Native American Rights Fund was proud to co-host the nation's first-ever presidential forum focusing entirely on Native American issues, the Frank LaMere Native American Presidential Forum. In addition to co-hosting, NARF Executive Director John Echohawk (Pawnee) participated in the forum as a panelist.
The Frank LaMere Native American Presidential Forum was held August 19th and 20th, 2019, in Sioux City, Iowa. Over the two days, each candidate held individual appearance and responded to questions from panels of tribal leaders and Native American youth and elders. Murdered and Missing Indigenous Women was the key topic and many Native American women who are tribal and community leaders were among the panelists, including Gay Kingman, the executive director of the Great Plains Tribal Chairman's Association.
"This forum isn't about 'gotcha' moments. It's about 'get it' moments. We want candidates to grasp the challenges and aspirations of Indian Country. At the two nights of candidate debates in Miami, broadcast to a national audience, not one question or one candidate comment addressed Native American issues. Ignoring this forum in Iowa is ignoring the millions of First Americans who are citizens and voters." said O.J. Semans, Sr., co-executive director of the national Native American voting rights organization Four Directions.
Watch the recorded sessions at
https://vimeo.com/fourdirectionsvote
or
https://www.nativevote2020.com/
Event Schedule:
Monday, Aug. 19:
9 am – Marianne Williamson
10 am Elizabeth Warren
1 pm – Special Presentation
2 pm – Amy Klobuchar
3 pm – Steve BullockTuesday, Aug 20:
9:30 am – Joe Sestak
11 am – Mark Charles
1 pm – John Delaney
2pm – Kamala Harris
3 pm – Julian Castro
4 pm – Bill de Blasio
5 pm – Bernie Sanders
More blog posts