UPDATE: On August 8, 2023, President Biden designated the Baaj Nwaavjo I'tah Kukveni monument near the Grand Canyon National Park. The designation of the monument will protect Native homelands in the Grand Canyon landscape. Read more below about some of NARF's work to protect these sacred lands.
---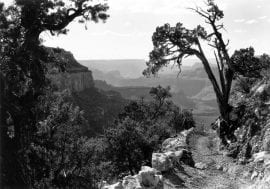 A 2018 Supreme Court decision not to hear a mining association appeal upholds 2012 protections for the Grand Canyon region.
In 2012, Secretary of the Interior Ken Salazar withdrew roughly a million acres from mining around the Grand Canyon. The withdrawal did not impact valid existing rights as of that date, but would prevent future mining claims in the area. Part of the reasoning for the withdrawal was that mining would impact many cultural, spiritual, and traditional resources within the area.
In response, mining companies and Mr. Yount filed the lawsuit, known as Yount et al v. Jewell et al, which challenged the withdrawal on many grounds, including that it violated the Establishment Clause by relying on Native beliefs. On behalf of the Indian Peaks Band of Paiutes, the San Juan Southern Paiute, and the Morningstar Institute, which all have an interest in seeing Secretary Salazar's withdrawal upheld, NARF filed an amici curiae brief addressing the Establishment Clause claim and the American Indian cultural resource arguments raised by the Plaintiffs.
The District Court denied the mining companies claim, but the companies appealed to the United States Court of Appeals for the Ninth Circuit. In August 2015, NARF filed an amici curiae brief in the appeals court on behalf of the Paiute Indian Tribe of Utah, San Juan Southern Paiute Tribe, Kaibab Band of Paiute Indians, Hualapai Tribe of the Hualapai Reservation, Northwestern Band of the Shoshone Nation, the Morningstar Institute, and the National Congress of American Indians.
In December 2017, we received a victory when the Ninth Circuit affirmed the lower court's ruling and effectively upheld the ban on new mining claims in the Northern Arizona Withdrawal area, stating in its opinion "[a]s Interior concluded, withdrawal of the area from new mining claims for a limited period will permit more careful, longer-term study of the uncertain effects of uranium mining in the area and better-informed decisionmaking in the future."
In March 2018, however, the mining associations filed a petition to the US Supreme Court challenging the Ninth Circuit's opinion. But, in October 2018, the Supreme Court declined to hear the matter. This is a great victory that will prevent future mining claims with the Grand Canyon for the time being.
More blog posts