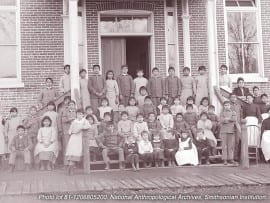 In the mid-1800s, agents of the U.S. federal government and major Christian church denominations began abducting Native children and incarcerating the children at Christian- and government-run boarding schools as part of a federal policy that continued until the 1950s. The U.S. assimilation policy used psychological tactics to force Native people to abandon ties to communal lands and identities as tribal citizens with rights to those lands, one child at a time.
Separated from their parents, many children suffered abuse and even died at the boarding schools. When this became inconvenient or costly, the sickest children were sent home for their final days. Children who survived at the schools were returned to their families and communities with psychological damage caused by the self-hate instruction taught in the boarding schools to eradicate each child's prior identity.
"The Native American Rights Fund addresses boarding school healing because our organization holds governments accountable for Native people. For healing to occur, all parties must identify who did what to whom, to what outcome and decide that's not okay, we need to make amends," said NARF Staff Attorney Brett Lee Shelton.
"In 2021, many individuals have taken concrete steps to begin to move us all through the phases of healing and to finally acknowledge the responsibility to make amends," said Shelton. "Progress—whether through investigation, legislation, and support for healing programs at the local level—matters urgently because the effects of the U.S. boarding school policy continues to impact subsequent generations today. Native people need to and deserve to heal."
In 2017, NARF, the National Native American Boarding School Healing Coalition, and the International Indian Treaty Council filed a submission with the UN Working Group on Enforced and Involuntary Disappearances. The submission called on the United States to provide a full accounting of American Indian and Alaska Native children who were taken into government custody under the U.S. Boarding School Policy and whose fate and whereabouts remain unknown. In June 2021, U.S. Interior Secretary Deb Haaland announced the federal department will investigate the operations of the more than 350 government-funded boarding schools in the U.S.
Boarding school survivors and their descendants can connect with the National Native American Boarding School Healing Coalition for resources and support. Educators responsible for teaching next generations about U.S. history and people seeking to educate themselves can learn more through the resources below.
BOARDING SCHOOL HEALING RESOURCES:
More blog posts