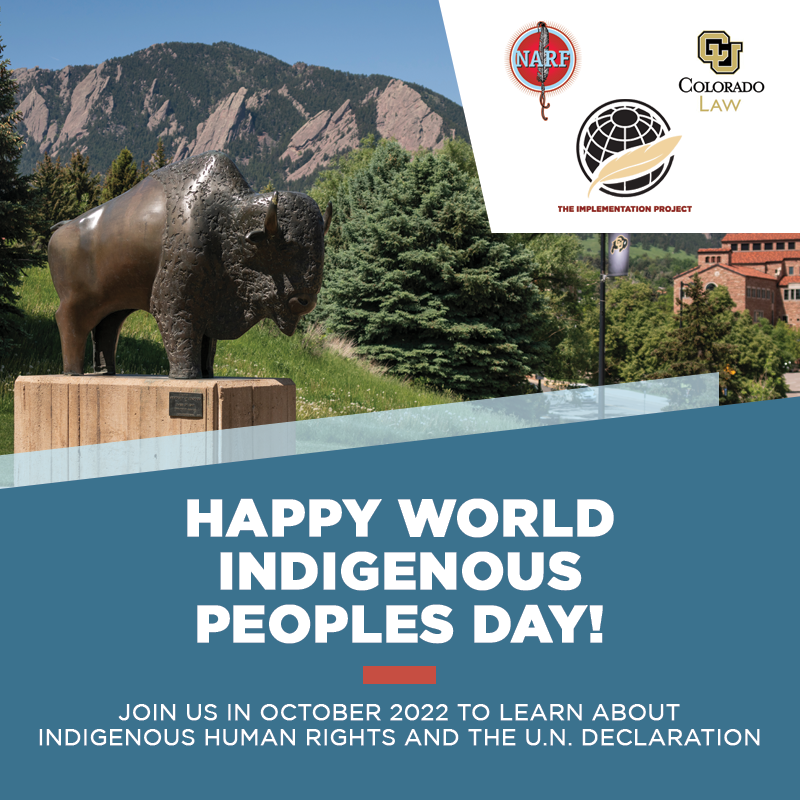 On the occasion of the International Day of the World's Indigenous Peoples (Aug. 9), The Implementation Project announces it will host an event for Indigenous youth and allies to learn about the United Nations Declaration on the Rights of Indigenous Peoples (Declaration) and the movement to achieve its implementation in the U.S. The event will be held to coincide with the celebration of U.S. Indigenous Peoples Day, during the week of Oct 9.
"To implement the Declaration in the U.S., we need a next generation educated on the terms of the Declaration and the need to protect Indigenous human rights," said Implementation Project Co-Director and Native American Rights Fund (NARF) Staff Attorney Sue Noe.
A grant from the City of Boulder, the location of The Implementation Project's two partner organizations – NARF and the University of Colorado (CU) Law School – will fund an event that furthers the Project's initiative to advance education and advocacy regarding the Declaration. In October, the Project will partner with the CU Center for Native American and Indigenous Studies to provide Indigenous youth and allies, especially high school and undergraduate students, and members of the public in Boulder, Colo., a unique opportunity to learn about the human rights of Indigenous Peoples as protected in the Declaration.
"The City of Boulder Human Relations Commission contributed to this event to inspire and empower future implementation advocates. We invite Indigenous youth, allies, and the public to learn about an international instrument created by and for Indigenous Peoples. Attendees will hear from author, tribal leader, and attorney Walter R. Echo-Hawk (Pawnee), who is leading his tribal government as the Pawnee Nation determines how it will implement the Declaration," said Implementation Project Co-Director Kristen Carpenter, the Colorado Law American Indian Law Program Director and Council Tree Professor of Law.
Organizers will be reaching out to Indigenous youth and allies in Boulder Valley School District, St. Vrain School District, and other community groups to invite them to participate. Participants will have an opportunity to use the knowledge they gain at the event to become part of the global and national movement to support the Declaration's protections in the United States. Attendees will receive pocket versions of the Declaration and enjoy catering by Tocabe: An American Indian Eatery.
The Implementation Project will host the event on the University of Colorado's Boulder campus, date, room and time to be announced. Check back at https://un-declaration.narf.org for details.
More blog posts