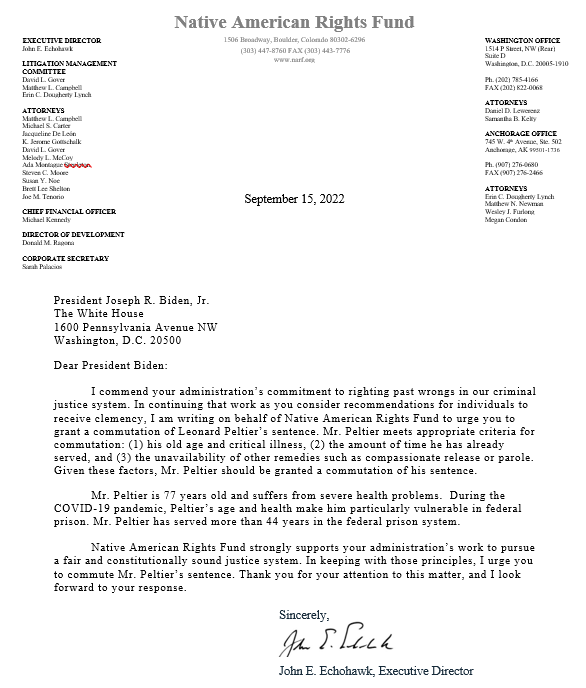 September 15, 2022
Dear President Biden:
I commend your administration's commitment to righting past wrongs in our criminal justice system. In continuing that work as you consider recommendations for individuals to receive clemency, I am writing on behalf of Native American Rights Fund to urge you to grant a commutation of Leonard Peltier's sentence. Mr. Peltier meets appropriate criteria for commutation: (1) his old age and critical illness, (2) the amount of time he has already served, and (3) the unavailability of other remedies such as compassionate release or parole. Given these factors, Mr. Peltier should be granted a commutation of his sentence.
Mr. Peltier is 77 years old and suffers from severe health problems. During the COVID-19 pandemic, Peltier's age and health make him particularly vulnerable in federal prison. Mr. Peltier has served more than 44 years in the federal prison system.
Native American Rights Fund strongly supports your administration's work to pursue a fair and constitutionally sound justice system. In keeping with those principles, I urge you to commute Mr. Peltier's sentence. Thank you for your attention to this matter, and I look forward to your response.
Sincerely,
John E. Echohawk, Executive Director
More blog posts