NCAI AND NARF JOINT STATEMENT ON THE NOMINATION BY PRESIDENT BIDEN OF WASHINGTON STATE'S FIRST EVER NATIVE AMERICAN FEDERAL JUDGE
This morning, President Biden announced his intent to nominate Lauren J. King (Muscogee Nation) as a judge on the United States District Court for the Western District of Washington. If confirmed, Ms. King would be the third active Native American federal district court judge in the United States, the fifth in the history of the federal judiciary, and the first Native American federal judge in the Western District of Washington.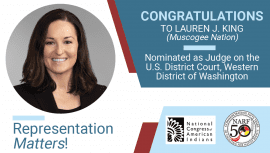 "NCAI strongly supports the nomination of Lauren J. King, a citizen of the Muscogee Nation, as the first ever Native American judge to serve on a federal bench in Washington state," said National Congress of American Indians President Fawn Sharp. "Washington state is home to 29 federally recognized Indian tribes, making it critical that its federal judges better reflect the communities they serve and understand the unique histories of Native peoples and the legal principles that protect and preserve our standing under federal law."
For decades, the Native American Rights Fund (NARF) and National Congress of American Indians (NCAI) have advocated for more Native American nominees for federal judgeships. Given the unique relationship between the United States and Indian tribes under federal law, federal court decisions impact the daily lives of Native Americans more so than other American citizens. Despite this, Native Americans have been historically under-represented in the federal judiciary. In the 231-year history of federal courts, only four Native Americans have been appointed as federal judges. Currently, of the 890 authorized federal judgeships, only two Native Americans serve as active federal district court judges. If the federal judiciary reflected nationwide demographics, there would be at least 14 Native Americans serving as federal judges.
John Echohawk, Native American Rights Fund Executive Director said, "Ms. King is a highly respected Native American attorney whose background and experience has prepared her well for the federal bench. We congratulate Ms. King and encourage the United States Senate to act swiftly on her confirmation."
More blog posts