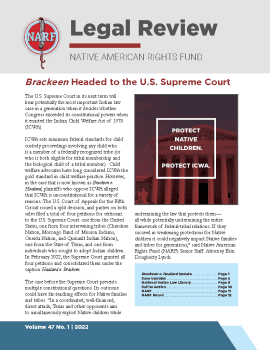 The NARF Legal Review is published semi-annually and provides updates on NARF's cases and information on other timely Indian law topics. The most recent edition examines some of NARF's cases from the winter of 2021 through spring of 2022. NARF's cases featured in this edition of the Legal Review include:
Brackeen v. Haaland Update—In its next term, the U.S. Supreme Court will decide whether Congress exceeded its constitutional powers when it enacted the Indian Child Welfare Act of 1978 (ICWA).
Launch of Sacred Places Project—To strengthen protections for Native peoples' sacred places in the United States, the Native American Rights Fund (NARF) has launched "Sacred Places
Protection: Fulfilling U.S. Religious Freedom Promises to Native Peoples."
Update on the Implementation Project—The Implementation Project hosted webinars to support tribes and advocates in engaging with the United Nations, national governments, and other Indigenous Peoples regarding human rights.
You can learn more about NARF's work, current and past, in the Legal Review archive.
More blog posts