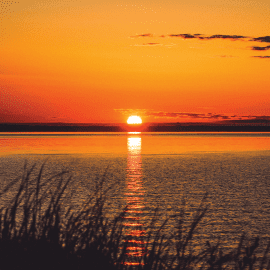 To raise awareness about environmental threats to the Place Where Life Began (the Straits of Mackinac), the Bay Mills Indian Community (BMIC) welcomed the House of Tears Carvers of the Lummi Nation and the Red Road to DC journey, with a water ceremony in Mackinac City today. Enbridge Energy has targeted the sacred Straits of Mackinac water-way for the construction site of a new Line 5 Pipeline tunnel that would pierce under the Great Lakes, jeopardizing this holy place and the BMIC's treaty-protected fisheries and resources. All of this would be done in order to transport oil from one part of Canada to another.
In the Red Road to DC journey, the Lummi are transporting a hand-carved totem pole from their home in the Pacific Northwest across the U.S. to Washington DC with visits to sacred sites along the way to raise awareness about the threats impacting those unique places. In Michigan, the BMIC shared with the Lummi and ceremony attendees the importance of the Straits and the dangers posed by Line 5's continued oil and gas operation.
The BMIC and several neighboring tribal nations banished the Enbridge corporation's Line 5 project from tribal lands and lands reserved by treaty this spring, due to the inherent and unreasonable risk of an oil spill. In fact, Enbridge has a long-documented record of oil leaks resulting in catastrophic environmental damage to tribal lands and treaty-reserved gathering, hunting, and fishing grounds. And now, as of May 13, 2021, Enbridge is breaking the law by trespassing. The state of Michigan revoked the easement to use the bottomlands because of Enbridge's repeated violations of the easement agreement.
Master Carver Jewell James explained that the totem pole is one of North America's oldest storytelling forms. Their design reminds us of our place within the natural world, our responsibility to future generations, our connections to the land, and through the land, our connections to each other. Totem poles are featured prominently in the culture and art of the Lummi and several tribes in Pacific Northwest. Guests of the water ceremony and the Anishinaabe people of BMIC had an opportunity to view the unique carving and share in a cultural exchange in order to bring light to the risks and harms facing the Straits.
Read More: Bay Mills Indian Community Aims to Stop the Enbridge Line 5 Pipeline System and A Tunnel Under the Straits of Mackinac
More blog posts