The Washington (DC) NFL football team recently announced its plans to retire its name and logo We welcome this long overdue change.
For over two decades, the Native American Rights Fund (NARF) has repeatedly called out the Washington DC football team for their use of a racist and offensive term. To that end, we have participated in multiple legal cases on the issue, advocated for an end to racist trademarks, joined with partners to put pressure on advertisers and news outlets to stop using the names of Native mascots in print and on air, and boycotted companies such as FedEx that invest in sports organizations with racial slurs masquerading as team names.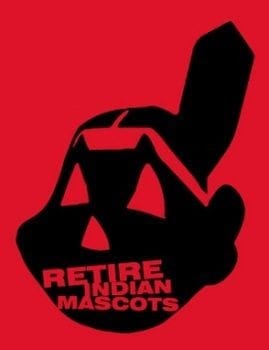 NARF stands strong against any and all Native-based mascotry.
Period.
Mascots, cartoons, caricatures. In sporting venues across the country, that is how Native Americans are portrayed, but that is not who Native people are!  From high school bleachers to professional stadiums, sporting events are full of red faces, "war whoops" and "tomahawk chops," and teams commit to send their rivals on a "trail of tears." These actions are performative racism meant to dehumanize Native people and our Tribes and celebrate our supposed erasure. Many thousands of our ancestors lost their loved ones and their spiritual homelands on the Trail of Tears, one chapter in a long-overlooked history of the colonial genocide of our people. A caricature of Jewish culture and Holocaust survival would quickly be denounced and rebuked. Native-based mascotry and false appropriation of our histories degrades our cultures, erases our people, damages our children, and perverts our history as the original peoples of this land.
In addition to holding professional sports teams accountable, we have supported students across the nation who have asked for help to end their schools' racist mascots. Because—just as Native mascots affect how non-Natives see us—they also affect how our Native youth see themselves. We have counseled schools and testified to state legislatures, explaining the documented detrimental effects of Native mascots on our children. With these mascots as the backdrop, Native students often face ridicule and harassment in the classroom and at sporting events. American Indian youth struggle to find a healthy sense of cultural identity when they are presented with caricature versions of themselves, and this then affects how they view their place in society. Furthermore, Native mascots do not just harm Native students—by using these mascots, schools are teaching all students that stereotyping minority groups is an acceptable practice, effectively embedding racism in school environments.
The names must change, and all references and use of Native imagery must be removed from sports. Get rid of them now. They are inaccurate, cartoonish depictions of our proud Native heritage. We are not mascots. We are human beings, and we deserve better. The question is whether the people who are in power—specifically, team owners and leagues—care.
This must end now. Names, logos, and current team colors must be changed in the name of true respect, equity, and humanity.
Some sports fans argue that the mascots honor Native American cultures. Listen to us when we tell you they do not. The history behind these mascots tells a story not of respect or honor, but of racism and subjugation. We hear sports fans worry that somehow changing the team name or imagery will impact their team. They complain that a new name, logo, and team colors may affect their team's traditions. Yet history is replete with successful social and cultural changes being made in the name of justice and decency. Which is more important—your favorite sweatshirt or our peoples' resilience and humanity? Our people's cultural resilience and human dignity is never honored as a mascot or a logo.
More blog posts