On September 25, 2020, a Montana court permanently struck down a state law that severely restricted the right to vote for indigenous people living on rural reservations.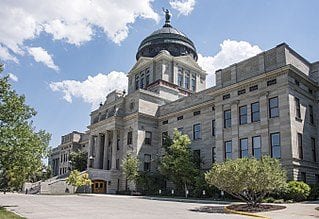 Western Native Voice v. Stapleton, filed in March of this year by Native American Rights Fund , the American Civil Liberties Union, and ACLU of Montana, challenged the so-called Montana Ballot Interference Prevention Act (BIPA), a law that imposed severe restrictions on ballot collection efforts that are critical to Native American voters living on rural reservations.
The law set an arbitrary limit on the number of ballots an individual could collect and also restricted the categories of individuals who were permitted to collect ballots. These limitations were intended to suppress turnout on rural reservations, where geographic and socioeconomic barriers to voting make ballot collection even more critical.
In the introduction of the order the court wrote, "the questions presented cannot be viewed through the lens of our own upbringings or own life experiences, but through the lens of the cold, hard data that was presented at trial about the clear limitations Native American communities in Montana face, and how the costs associated with … ("BIPA") are simply too high and too burdensome to remain the law of the State of Montana."
The lawsuit was filed on behalf of the Assiniboine & Sioux Tribes of Fort Peck, Blackfeet Nation, Confederated Salish and Kootenai Tribes of the Flathead Reservation, Crow Tribe, and Fort Belknap Indian Community as well as Western Native Voice and Montana Native Vote, Native American-led organizations focused on getting out the vote and increasing civic participation in the Native American community.
In a state where the majority of individuals vote by mail, rural tribal communities work with get-out-the-vote organizers who collect and transport ballots to election offices that would otherwise be inaccessible because of distance, lack of access to transportation or other socio-economic barriers.
These ballot collection efforts are often the only way Native Americans living on rural reservations can access the vote. BIPA would have effectively ended this practice, disenfranchising Native American voters en masse.
The following is reaction to the ruling:
NARF Staff Attorney Natalie Landreth: "Today the Court held that BIPA is unconstitutional and is permanently enjoined. This means that this election, Indian people in Montana can get the help they so sorely need to have their ballots counted."
NARF Staff Attorney Jacqueline De León: "Native American voters living on reservations in Montana are tired of being under-served and systemically discriminated against by the state. Today's decision removes one unnecessary obstacle for rural Montana voters and helps every voice be heard in our state and federal elections. It is one step forward in the fight to protect our vote and our voices."
Alora Thomas-Lundborg, senior staff attorney, ACLU's Voting Rights Project: "This ruling is a major victory for voting rights and for thousands of Native Americans in Montana who can now vote without this barrier in the way."
Alex Rate, legal director, ACLU of Montana: "We are celebrating this ruling. Indigenous people have historically been and continue to be disenfranchised, and BIPA was yet another barrier standing in the way of Indigenous people exercising their fundamental right to vote. Ballot collection efforts are an important way to get out the vote on rural reservations, and with this ruling those efforts can proceed."
Marci McLean, executive director, Western Native Voice: "This ruling means that Indigenous voters living on rural reservations are better able to participate in our democracy. Ensuring that all voters have access to the polls is a foundational component to our democracy, and we are pleased that our organizers can continue their get-out-the-vote and ballot collection efforts on every reservation in Montana. The excellent result in this lawsuit shows what can happen when organizations, individuals, organizers and tribal governments come together."
This ruling follows a preliminary injunction granted by the court in July, which temporarily blocked the law.
The lawsuit was filed in the Montana Thirteenth Judicial District Court in Yellowstone County.
Read more about the lawsuit, Western Native Voice v. Stapleton.
More blog posts