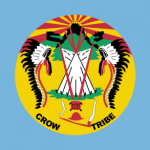 The Crow Tribe of Indians has joined the proposed class-action lawsuit against the Montana Office of Public Instruction (MOPI) et al, for failing to implement Montana's Indian Education for All Act (IEFA) and the state's constitutional mandate for statewide Indian Education in public schools. These unique laws require every public school student in Montana to receive instruction about American Indian tribes in the region.
"When the Crow Tribe joined the case, we amended the complaint also to incorporate additional allegations of the harm occurring each day that the state agencies and officials fail to implement the state laws," said NARF Staff Attorney Melody McCoy.
Some of the harm involves a lack of accounting by the state agencies and officials for monies allocated for schools to provide Indian Education. Other impacts affect students directly. "Offering accurate information about Indian tribes in school helps all students build empathy, a sense of understanding and belonging, and foster greater connections," said NARF Staff Attorney Samantha Kelty.
Montana is the only state in the U.S. that constitutionally commits to teaching Indian education to all students in its public schools. The 1972 constitutional provision was enhanced in 1999 by a specific state statute. While the groundbreaking laws to teach Indian education position the state to be a leader in offering Indian education curriculum, MOPI's failures to implement the laws mean many generations of students have never yet felt the impact of the visionary education guarantees.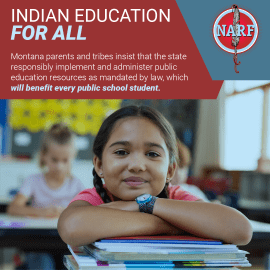 "Native students in Missoula County schools experience incidents of cultural or racial bullying from classmates, which to me, always stems from the bullies having a lack of awareness, a lack of understanding, a lack of education about tribes," said plaintiff and parent of Montana public school students Cammie DuPuis (Confederated Salish and Kootenai Tribes). "If MOPI implemented the laws, we'd likely see reduced bullying and violence in school."
The Crow Tribe joins students, parents, guardians, and the Assiniboine and Sioux Tribes of the Fort Peck Reservation, Confederated Salish and Kootenai Tribes of the Flathead Reservation, Fort Belknap Indian Community, Little Shell Tribe of Chippewa Indians of Montana, the Northern Cheyenne Tribe, in the Yellow Kidney et al v. Montana Office of Public Instruction (MOPI) et al proposed class-action lawsuit.
Read more about Yellow Kidney, et al. v. Montana Office of Public Instruction, et al.
More blog posts