The Native American Rights Fund (NARF) fully supports the introduction of H.R. 1278, a new landmark bill in the U.S. House of Representatives that would amend the Trademark Act of 1946 regarding the disparagement of Native Americans through marks that use the term "redskin."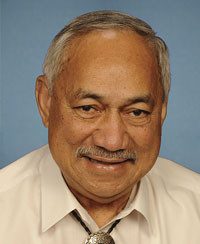 Rep. Faleomavaega, one of the
sponsors of H.R. 1278
NARF commends Rep. Faleomavaega and all the original sponsors of this important bill, which sends a clear signal that some members of Congress do not take anti-Native stereotyping and discrimination lightly.  These Representatives now join Native American nations, organizations and people who have lost patience with the intransigence of the Washington pro football franchise in holding on to the indefensible – a racial epithet masquerading as a team name.
NARF also commends all those individuals in the on-going Harjo and Blackhorse proceedings in federal agencies and courts for their tireless advocacy attempting in righting this wrong.  While these cases have yet to succeed, they have provided the springboard for legislative efforts like the new bill.
For over 20 years NARF has been involved in the cases, attempting to accomplish what this bill, if enacted, would do.  NARF represented the National Congress of American Indians (NCAI), the National Indian Education Association (NIEA), the National Indian Youth Council (NIYC)), and the Tulsa Indian Coalition Against Racism (TICAR) as amici curiae in Harjo et al v. Pro Football, Inc.  NARF also organized amici briefs in support of the Native petition for Supreme Court review, including one by a broad range of Native nations and organizations, and others by law professors, psychology professors and social justice advocacy groups.
NARF, NCAI, NIEA NIYC, TICAR and other major Native American organizations all have raised concerns regarding race-based stereotyping and behaviors in sports,, particularly the racially derogatory name and logo of the "Washington Redskins" professional football organization. Such concerns have been expressed through numerous communications, public statements, and meetings, including a 1972 meeting with then Washington Redskins president Edward Bennett Williams, after which no team owner ever met with Native people opposing the name.
The U.S. Patent and Trademark Office registered six trademarks between 1967 and 1990 that consist of racially derogatory and disparaging material, which opens Native Americans to contempt and public ridicule in violation of Section 2(a) of the Lanham Act, 15 U.S.c. § 1052(a).  While there is enormous uplifting good in the human spirit, racism is the dark side of humanity that has caused much suffering among our diverse human family.  Section 1052(a) wisely recognizes that one basic manifestation of prejudice, discrimination, or racism is the use of racially derogatory names, caricatures, or stereotypes that disparage peoples and persons and hold them up to contempt and ridicule; and this statute safeguards citizens through the registration of  such trademarks.
In ruling unanimously in the Harjo case to cancel the "Redskins" trademarks, the PTO Trademark Trial and Appeal Board (TTAB) admitted that the six existing trademark licenses should not have been approved. That ruling was overturned on a technicality, laches, which was interpreted to mean that the plaintiffs waited too long after turning 18 to file suit. The current Blackhorse case is identical, except that the plaintiffs filed when they were 18 to 24. In a recent hearing before the PTO TTAB, the Washington franchise argued that even these young plaintiffs waited too long and should have filed on the day they turned 18. In addition to this ongoing trademark cancelation case, Native people have filed Letters of Protest with the PTO to stop new requests for trademark licenses for the same disparaging name.
Should this legislation be enacted, it would provide justice to the plaintiffs and protestors in these cases, would free the PTO to automatically deny federal protection for this disparagement, and would spare present and future Native American peoples and persons from suffering public humiliation and discrimination from the name of the team in the nation's capitol.
Native nations and citizens have a treaty, trust and special relationship with the United States, and rely on the federal government more than any other segment of society to make certain that its actions do no harm. Because of the duty of care owed to Indian tribes and people by the Department of Commerce, it is incumbent upon them to strictly enforce the provisions of 15 U.S.C. § 1052(a), in order to safeguard Indian tribes and citizens from racially or culturally disparaging federal trademarks.  They are required by law to assess the issues in light of its federal Indian trust relationship and associated fiduciary duties to protect Indians and Indian culture from degrading federal trademark registrations.  That trust relationship encompasses an affirmative duty on behalf of the Department of Commerce and the PTO TTAB to protect tribal culture and safeguard Native Americans from racism in sports conducted under color of federal law.
Founded in 1970, the Native American Rights Fund (NARF) is the oldest and largest nonprofit law firm dedicated to asserting and defending the rights of Indian tribes, organizations and individuals nationwide.  NARF's practice is concentrated in five key areas: the preservation of tribal existence; the protection of tribal natural resources; the promotion of Native American human rights; the accountability of governments to Native Americans; and the development of Indian law and educating the public about Indian rights, laws, and issues.
More blog posts