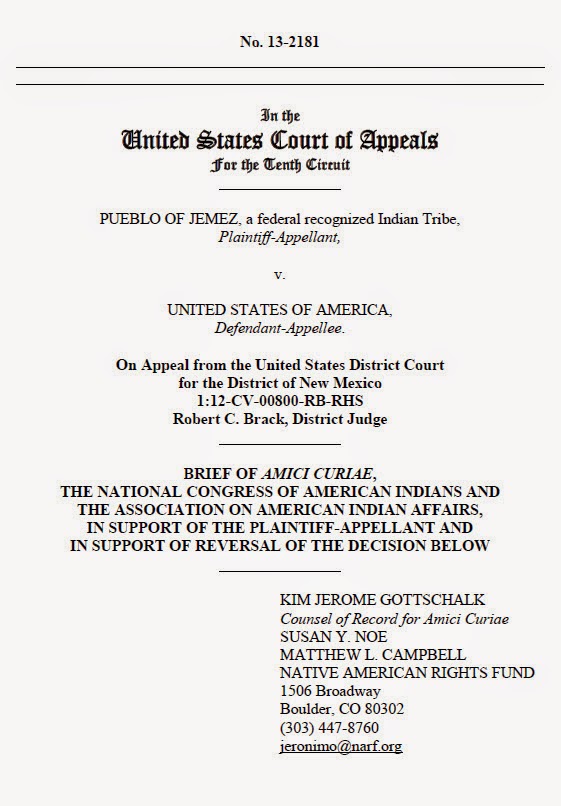 Earlier this month NARF filed an amicus brief on behalf of the National Congress of American Indians (NCAI) and the Association on American Indian Affairs (AAIA) in Pueblo of Jemez v. United States, a case currently before the Tenth Circuit Court of Appeals.  The amicus brief was in support of the Pueblo, and the question at issue is an important one.
The Pueblo of Jemez claims aboriginal title to land the United States purchased from third parties, who held it subject to the Pueblo's aboriginal title and used the land to establish the Valles Caldera National Preservation Area.  The Pueblo sued the United States under the Quiet Title Act (QTA) to quiet title to its aboriginal title.  The United States claims that the Pueblo cannot avail itself of the waiver of sovereign immunity in the QTA because it should have brought its claim to title in the Indian Claims Commission (ICC) and accepted money damages in exchange for it.  Since it failed to avail itself of that remedy, the United States argues that it is barred from utilizing the QTA.  The Pueblo position is that the ICC did not have jurisdiction over present interests in property, but rather the Indian Claims Commission Act was a remedial statute designed to address past grievances and the Pueblo was not required to surrender its valid aboriginal title.
To read the brief, click here.
More blog posts