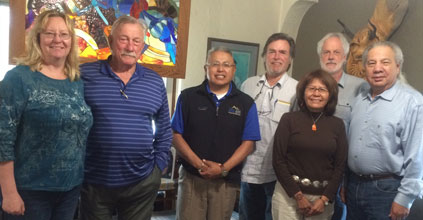 NARF Staff Attorney Steve Moore, David Armstrong (Wisconsin Judicare), James Botsford, and President Linda Benally (National Native American Bar Association) have had the privilege of serving as pro bono co-counsels to the Native American Church of North America, Inc. (NACNA)  and National Council of Native American Churches (NCNAC)  for many years.  The pro bono legal team defends NACNA and NCNAC's American Indian religious freedom rights.
Last month, Moore hosted the pro bono team, Walker Research Group, Ltd, and the leadership of NACNA and NCNAC for a meeting in Boulder, Colorado.  Two years ago, NACNA and NCNAC commissioned a study to capture a snapshot of the church twenty years after the passage of the American Indian Religious Freedom Act, which was signed into law in 1994.  The study was funded by NARF and conducted by Deward Walker with the Walker Research Group.
During the meeting, the team had the opportunity to chat with NARF Executive Director John Echohawk and listen to his personal stories about his acceptance to University of New Mexico law school, the start of his legal career at California Indian Legal Services, and the inception of NARF via funding by the Ford Foundation.  He also shared his recollection about the birth of the National Native American Law Students Association and the National Native American Bar Association.
More blog posts