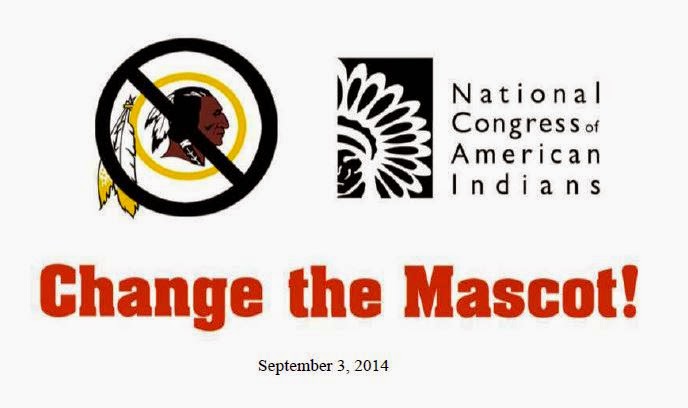 Earlier this week NARF joined 105 other organizations in sending a united message from Indian Country and the civil rights community that it's past time to change the mascot of the Washington NFL team.  NARF co-signed a letter asking broadcasters to stop using the offensive name of the Washington NFL team.  The letter also included a factsheet for broadcasters.  The letter states:
Dear Broadcaster,
As the new National Football League season approaches, we are writing to ask you to join other media organizations in refusing to broadcast the Washington team's name on the public airwaves.  The team's name is a dictionary-defined racial slur.  As of 2014's U.S. Patent and Trademark Office ruling, it is also a government-defined racial slur.  Those definitions are correct.
Throughout history, this term has been used to disparage Native Americans.  It is the term used by bounty hunters to describe bloody Native scalps, and it was the epithet screamed at Native Americans as they were dragged at gunpoint off their lands.  No doubt, the bigotry of this word is why the team was originally given the name by its longtime owner, avowed segregationist George Preston Marshall.
Civil rights organizations, religious leaders, sports icons, Members of Congress from both parties and the President of the United States have all called on the Washington team to change its name.  At the same time, more and more news organizations and icons of sports media have decided to stand on the right side of history by refusing to continue repeating the team's name during their coverage of the NFL.  Rather than repeat-and therefore promote-the racial slur in question, they have decided to use more generic descriptions when referring to the team.
Some might argue that objectivity requires broadcasters to continue promoting the racial slur as long as Washington team owner Dan Snyder keeps denigrating Native Americans by using the epithet as his team's name.  But in this particular fight for basic equality and mutual respect, there is no "objective" position.  Every time the slur is promoted on the public airwaves even in a non-critical way by a journalist, it is an endorsement of the continued use of this slur.  In other words, using this word is not just to legitimize it – it is to endorse its use, to ignore its definition and to defend its message.
Last week, CBS sports anchor James Brown publicly declared that he believes the Washington team must change its name. That statement was particularly significant because it followed CBS Sports Chairman Sean McManus telling a magazine that his network has not forced its broadcasters to keep repeating this racial slur in their coverage of the NFL.
Though we would prefer networks institute rules prohibiting their resources from promoting dictionary- and government-defined racial slurs, we are hopeful that other sports media executives will at least follow McManus by allowing their individual employees not to promote this epithet.  We are also hopeful that with such editorial freedom, more sports media figures will follow Mr. Brown and speak out clearly against this continued injustice.
Attached to this letter is a list of the news outlets and sports media figures who have already decided to take a stand on the right side of history.  They have either editorialized against the R-word or refused to keep promoting the Washington team's name.  We now ask you to do the same.
For over twenty years, NARF has publicly denounced use of the name, supporting and participating directly in various legislative and litigation efforts to put an end to use of this offensive name.  "NARF has long worked, and will continue to work, to put an end to this racial slur masquerading as a team name," said NARF Executive Director John Echohawk.
For a full copy of the letter, including all signatories, click here.
#ProudtoBe
More blog posts