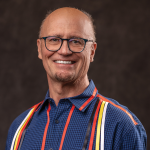 Last month, the National American Indian Court Judges Association released their publication, Report on Holistic and Traditional Justice Roundtable. NARF Staff Attorney Brett Lee Shelton was a contributor to this report, which provides a detailed description of the "Holistic & Traditional Justice Roundtable" held in Albuquerque, New Mexico, on November 13, 2015. More than 24 Indian Law experts attended the Roundtable and participated in a full-day discussion, which yielded considerable insights on holistic and traditional justice. Attendees included an array of tribal law practitioners: tribal court judges, tribal supreme court and appellate justices, legal aid attorneys, nonprofit staff attorneys and executive directors, private practice attorneys, a tribal councilwoman, an undergraduate professor, and at least six law school professors. With such a broad group of professionals, each having extensive experience and knowledge in the field of Indian Law, the discussion was extraordinarily fruitful and limited only by the time allotted.
The discussions were divided into three separate sessions: (1) Defining the "Native Standard" in Restorative Justice Practices, Traditional Justice, and Peacemaking; (2) The Applications of Tribal Justice Systems and Indigenous Law; and (3) Intersections between Restorative Justice, Traditional Justice, Peacemaking, and Adversarial Courts (Including Alternatives to Detention). Each session began with presentations by two or three Indian Law practitioners and concluded with moderated roundtable group discussions involving all of the attendees.
Brett is the lead attorney on the NARF Indigenous Peacemaking Initiative (IPI), which is dedicated to the continuation and revitalization of traditional ways of justice. This project provides NARF with an opportunity to support traditional peacemaking and community-building practices as an extension of Indian law and sovereign rights. The project is guided by an advisory committee consisting of traditional peacemaking experts and practitioners. You can learn more at the IPI website.
More blog posts