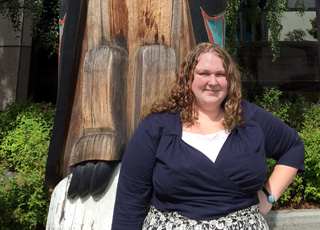 At NARF, we are dedicated to supporting the next generation of Indian law lawyers and one way we do this is through our Law Clerk Program, a ten- to twelve-week program for second-year law students.  NARF's summer projects are extremely challenging because NARF practices before federal, state, and tribal forums, and because most of our cases—whether at the administrative, trial, or appellate level—are complex and involve novel legal issues.
This summer, the Law Clerk Program is again supported by a grant from the Confederated Tribes of Siletz Indians through the Siletz Tribal Charitable Contribution Fund.  Christine Miller, a law clerk in NARF's Anchorage, Alaska office, was chosen to be the recipient of the Siletz grant due to her tireless work ethic and voluminous work product.
Christine is a descendent of the Coeur d'Alene tribe of Idaho, where she grew up.  She is a rising third-year student studying Native American Law and Natural Resource Law at the University of Idaho College of Law.  She is the co-chair of the University of Idaho Native American Law Student Association, as well as the Region 7 Representative for the National Native American Law Student Association.  Christine attended the University of Puget Sound in Tacoma, Washington, where she studied Classical Languages with an emphasis in Latin. Last summer, she was a teaching assistant for the Pre-Law Summer Institute with the American Indian Law Center and served as an assistant for the Federal Indian Law class.
Welcome, Christine!
NARF thanks the Confederated Tribes of Siletz Indians and the Siletz Tribal Charitable Contribution Fund for its grant to further the NARF Law Clerk Program, which allows NARF to mentor Native law students like Christine and allows the students to make an impact on Indian law and to Native people during their term at NARF.  The Siletz Grant also allows NARF to continue our mission to develop Indian law and educate the public about Indian rights, laws, and issues.
More blog posts