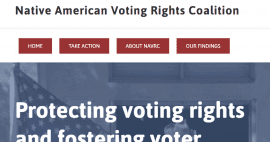 NARF, on behalf of the Native American Voting Rights Coalition, is proud to feature the Coalition's website at vote.narf.org.
The website makes available findings from the Coalition's multi-year research on the state of voting in Indian Country, including
an extensive survey of Native voters, which documents obstacles encountered in state and federal elections, and
materials from the subsequent field hearings held across Indian Country in 2017 and 2018.
The website also translates this research into actionable steps that tribes, communities, and individuals can take to improve access and engagement among Native voters.
The Native American Voting Rights Coalition (NAVRC) is a non-partisan alliance of national and grassroots organizations, scholars, and activists advocating for equal access for Native Americans to the political process. The Native American Rights Fund founded the coalition in 2015 to facilitate collaboration among Coalition members and to coordinate efforts at overcoming the many barriers Native Americans face in registering to vote, casting their ballot, and having an equal voice in elections.
Visit vote.narf.org for more information.
More blog posts