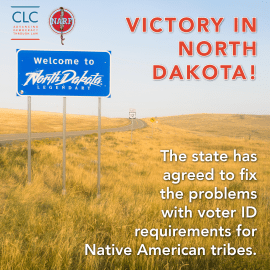 On April 24, 2020, the Spirit Lake Nation and Standing Rock Sioux Tribe have filed a binding agreement with the state of North Dakota settling a longstanding fight over voting rights for Native Americans. Once approved by the court, the agreement will be enforceable by court order and will provide essential safeguards to protect Native Americans' right to vote, easing the financial and logistical burdens that North Dakota's voter ID law placed on tribes.
The Native American Rights Fund (NARF) and the Campaign Legal Center (CLC) represented the two tribes in the legal challenge, which was consolidated with a separate suit brought by NARF in 2016. The two lawsuits stem from the restrictive voter ID law enacted in 2013. Collectively, the two tribes have over 7,000 residents of voting age that will benefit from the consent decree, which will be in force for the statewide primary election on June 9.
"For the last four years, we have fought hard to protect the voice of Native voters in North Dakota. The ability to vote should never depend on home ownership or whether the government has assigned your home an address," said NARF Staff Attorney Matthew Campbell. "We are relieved that North Dakota has recognized the need to hear all of its citizens' voices, and we commend the state for taking these steps to ensure that Native American voters are able participate in the political process."
"This is a sweeping victory for Native American voting rights, and one that should send a message to other states looking to impose restrictive voting measures that disenfranchise historically marginalized groups," said Paul Smith, vice president at CLC. "We applaud North Dakota for moving beyond discriminatory schemes and agreeing to provide a meaningful method for Native Americans to verify their residency and protect their constitutional right to vote. In order to have a successful 2020 election, the state must follow through with a robust voter and poll worker education campaign to fully move past their failed addressing system."
One of its strongest protections in the proposed consent decree is a provision that allows Native American voters who do not have or do not know their residential street address to locate their residence on a map at the polls or when applying for an absentee ballot, be provided with their address by county officials, and have their ballots counted.
North Dakota's agreement with the two tribes will ensure that tribal IDs and tribally designated street addresses are accepted as valid. It also cements commitments made by state officials in February to seek reimbursement of the tribes' expenses in producing voter IDs and to coordinate with the Department of Transportation to visit reservations prior to each election to provide access to state-issued IDs at no cost.
More blog posts