---
---
---
Tribal Constitution Handbook:
A Guide to Writing and Revising Tribal Constitutions, by Mark C. Tilden
Order a copy from NARF's online store.
---
---
Decision Making Guide: Options for Tribal Education Departments to Enhance the Tribal Role in Select Federal K-12 Education Programs
This guide is intended to help accomplish that goal by providing tribes and Tribal Education Agencies (TEA) with select K‐12 federal programs in which TEAs can potentially participate; thereby provide ways for tribes to enhance their role in Native education. (2013)
Download a PDF copy of this publication.
---
Wearing Eagle Feathers at Graduation
The Tribal Education Department National Assembly and NARF are proud to distribute two flyers to assist students and families in their quests to wear eagle feathers at their graduation ceremonies. The first trifold flyer is for students and families and serves to provide guidance on working with school districts to make the request. The second trifold flyer is an informational flyer for school districts, to inform them about the significance and importance of the eagle feather to graduating students. (2015)
---
A Manual for Chief State School Officers and State Education Agencies
On American Indian and Alaska Native Tribal Sovereignty, Federal Education Programs for Tribal Students, and Tribal Education Departments. Prepared by the Tribal Education Departments National Assembly (TEDNA) with assistance from the Native American Rights Fund. (2006)
Download a PDF copy of this publication.
---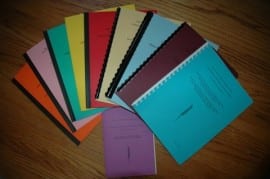 Tribalizing Indian Education Series by Melody McCoy
1. Draft Materials for Tribal Governance in Education (1994)
2. Presentation/Workshop Materials (1997)
3. Cooperative Agreements in Indian Education (1998)
4. Federal and State Laws Regarding Tribal Education Departments (1984-1999) (1999)
5. Federal Indian Law and Policy Affecting American Indian and Alaska Native Education (2000)
6. An Historical Analysis of Requests for Direct Federal Funding for Tribal Education Departments for Fiscal Years 1989-2004 (2003)
7. A Compilation of Federal and State Education Laws regarding Native Language in Curriculum and Certification of Teachers of Native Languages (2003)
8. Major Federal Programs for American Indian, Alaska Native, and Native Hawaiian Education: What Are They and How Do They Involve Tribes? Part II: Programs Under the No Child Left Behind Act of 2001, Titles VII (Indian Education Act); VIII (Impact Aid); and, X (Bureau of Indian Affairs) (2004)
9. The Evolution of Tribal Sovereignty Over Education in Federal Law Since 1965 (2005)
10. Compilation of State Indian Education Laws (2005)
Download PDF copies of the publications.
---
Older Publications by NARF: