An important part of advancing Native American rights and developing Indian law, is developing the next generation of warriors for justice. To this end, for decades, NARF has offered an internship program to offer college students a unique opportunity to learn about the broad range of federal Indian law and tribal. This highly competitive program has trained hundreds of talented students who have gone to serve Indian Country in a variety of ways.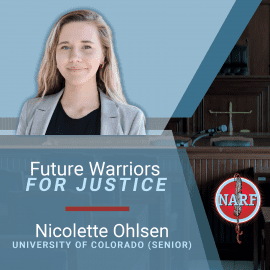 This week, we'd like to introduce Nicolette Ohlsen, who is from Denver, Colorado and is a rising senior at the University of Colorado at Boulder majoring in International Affairs, concentration in Europe, and a minor in Spanish. She is currently in her majors honors program and made the University's Dean List for the 2021 academic year. In terms of work experience she has spent her entire college career interning at various places such as the Office of Saving People Money on Healthcare in the Lieutenant Governor's Office, a local medical malpractice firm and a small family law firm. Her time in college has also been marked by community service with The Conference on World Affairs, The Women's Foundation and a local bilingual preschool. Nicolette's passions lie in international politics, environmental law and human rights. She is hoping to go to law school after she graduates from the University of Colorado to pursue a career in environmental law.
She is thrilled to be joining NARF's Colorado office as an intern this summer.
Welcome, Nicolette!
More blog posts