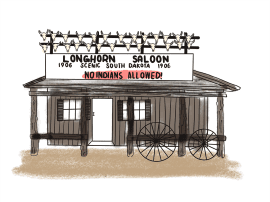 The Native American Rights Fund (NARF) stands in support of the Oceti Sakowin tribal leaders as they hold to task the Grand Gateway Hotel and its racist policies.
NARF Executive Director John Echohawk responded to recent events in South Dakota:
We assumed that the time of No dogs, no Indians was long over, but recent events have shown that isn't the case.

We hope that what has changed is that the people of the United States will no longer tolerate this kind of racist discrimination in their midst. We are proud to see the people of South Dakota, the leaders of the Oceti Sakowin, the NDN Collective, and other organizers taking action against the Grand Gateway Hotel and the hatred and injustice they displayed.
NARF calls on the United States Department of Justice to investigate this hate incident as a civil rights violation. We call on the people of the United States to protect our shared values of equal treatment, justice, and fairness.
More blog posts