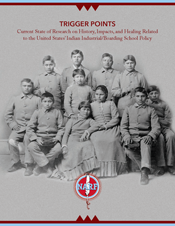 This review gathers existing research about the purposes and human rights abuses of US American Indian boarding school policies, why they matter still today, and—most importantly—how recovery can and is being accomplished.
Special thanks the Tzó-Nah Fund for supporting this project and NARF over the years.
Download a PDF copy for educational or research purposes.
Table of Contents
Acknowledgements
Overview

The Research Team and Additional Authors
Notes on Some Key Terms
Literature Review Format

Foundational Information on the Boarding Schools

A Brief Comparison of Canadian and American Residential Schools

Historical Literature on Boarding Schools
Recommended Histories of the Early Boarding Schools
General Histories of Indian Education
Nature of the Available Research Literature
Health-Related Literature
Language-Related Literature
Economics-Related Literature
Education-Related Literature
Family-Related Literature
History-Related Literature
Consequences for Communities and Native Nations

Boarding Schools Set a Precedent for What Constitutes School Success in American
Schools.
Boarding Schools may have Contributed to the Development of Native American
English.
Some Boarding School Alumni Used Their Boarding School-Developed Skills to
Advocate for and Work within Their Communities.
Some Boarding School Alumni Advocated for Native People through Newly-Formed
Indian Organizations like SAI, NIYC, and AIM.
Some Boarding School Alumni Became Advocates for Indian Education, Including
Survival Schools, Tribal Colleges, and Tribally Controlled Schools.

Consequences for Families

Separation of Family Members Kept Children from Acquiring Traditionally Grounded
Parenting Techniques and Familial Roles.
Some Native Grandparents Today are More Likely to Choose to Raise their Grandchildren in an Effort to Stop the Cycle of Loss Initiated by Boarding Schools.
The Descendants of Students who Attended Boarding Schools May be Less Likely to
Speak an Indigenous Language.
Boarding School Experiences, Particularly Abuse and Neglect, are Associated with a
Constellation of Psychological Distress and Related Symptoms. Psychological Distress
Makes One more Susceptible to Alcohol or Illicit Substance Use/Abuse, Suicidal
Thoughts, and Suicide Attempts. These Experiences can Transfer to Later Generations.
Research Regarding other Family Impacts in a U.S. Setting have not been Well
Described. Canadian-based Research can Provide Additional Insights.


Consequences for Individuals.

Maintaining Strong Community Connections, Including Connections to Indigenous
Worldviews and Cultural Practices, can Support Resiliency.
Some Students Internalized Boarding School Messages that Told them to Feel
Ashamed of their Identities and Communities.
Additional Research is Needed to Understand the Educational Impacts of Boarding
Schools on Native Students Today.
Boarding Schools did not Prepare Native Students to Acquire Meaningful Employment
after Leaving School. Additional Research is Needed to Understand the Economic
Impacts of Boarding Schools on Native People Today.
The Direct Emotional and Physical Abuse that Many Native Students Experienced
in the Boarding Schools can Lead to Psychological Distress and Alcohol or Illicit
Substance Use and Abuse. Substance Abuse is Therefore Both a Result of Historical
Trauma and a Means through which it is Perpetuated.
Subsequent Poor Conditions and Chronic Stress is Associated with Increased Risk of
Disease and Poor Self-Rated Physical Health.
Many Individuals Regularly Think About Historical Trauma, Including Losses Associated
with Boarding School Attendance.
Individuals may not Need Direct Personal Exposure to Boarding Schools to be
Impacted by the Policy.
Boarding School Experiences may Have a Negative Impact on the Ability of Alumni to
Maintain Healthy Interpersonal Relationships.
Some Individuals See Their Relatives' and Communities' Survival of the Boarding
School Era as a Source of Personal Strength.


Promising Strategies for Healing

The Canadian Government's Response to Healing
Healing through Language and Education
Centering Native Languages in Schools
Supporting Native Languages through Public Programming and Technology
The Development of the Tribally Controlled School Movement
The Importance of Culturally Relevant Curriculum
Healing through Increased Economic Opportunities
Healing through Research and Scholarship
Case Study: Philanthropy Supporting Community-Driven Programs
Healing through a Focus on Family Programs
Healing through a Focus on Health and Well-Being

Case Study: Qungasvik (Toolbox): A Yup'ik Intervention to Address Youth Suicide
and Alcohol Abuse
Case Study: Wikoskalaka Yuwita Pi (A Gathering of Young Women)
Summary of Knowledge Gaps & Suggestions for Future Research

Approaches to Overcome Methodological Challenges
Topical Areas for Future Research
First Printing November 2019.
More Resources