On June 8, 2023, the Supreme Court of the United States in Allen v Milligan upheld the lower court's determination that the newly adopted Alabama congressional maps likely violate Section 2 of the Voting Rights Act. After lower courts found that Alabama's most recent redistricting likely violated the Voting Rights Act, the state chose to appeal the case rather than draw non-discriminatory electoral districts. The state argued that, contrary to the protections embodied in the Voting Rights Act, race should not be taken into consideration in redistricting efforts. The Supreme Court disagreed.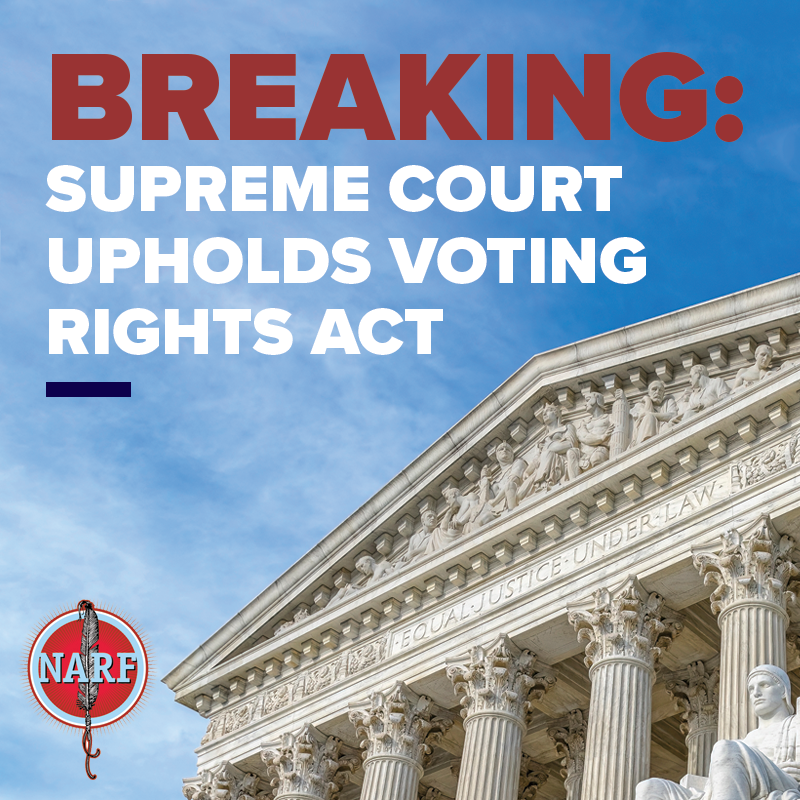 Native American Rights Fund (NARF) Executive Director John Echohawk responded to today's decision, "In this case, the National Congress of American Indians stood alongside Native American voters and other organizations and joined a broad coalition of community organizers and advocates coming together to protect democracy and the American ideal that every vote should count—regardless of what that voter looks like or where they live."
NARF Staff Attorney Jacqueline De León explained, "Native voters are fighting for fair maps across Indian Country and this decision furthers that goal by acknowledging the importance of the Voting Rights Act and reaffirming the right of voters to have fair maps and representation. The Native American Rights Fund will continue to fight for fair representation for Native voters and all voters."
Last July, the National Congress of American Indians, represented by NARF, filed an amicus brief in the case arguing against the proposal to eliminate race from redistricting considerations. Participating in American democracy provides Native Americans the opportunity to remedy past injustices by electing representatives who understand and honor Native Nations' political status within American federalism, who will advance treaty rights, advocate for basic resources, and respect and value Native Americans' contributions to this country.
The brief explained that there is an ongoing and critical need for Section 2 of the Voting Rights Act to address racial discrimination and contemporary voter suppression that dilutes Native American votes and political power. In fact, the only Section 2 enforcement action brought by the Department of Justice during President Trump's tenure was a challenge to an at-large district that prevented the election of Native American candidates of choice to a school board.
"We will continue to stand strong to protect the rights of voters across Indian Country who face ongoing obstacles to registering, voting, and having their votes count. Time and again tribal nations and Native voters have stood up to those that want to steal their voice. This case will not change that commitment. We commend the Court's decision for upholding democracy and our shared value to protect a fair and equitable system of elections. We call on voters across the country to hold their representatives responsible for creating fair and equitable voting rights laws and districts," promised NARF Deputy Director Matthew Campbell.
The first people of this land should not be the last to have the power of the vote. NARF will continue to fight in courtrooms nationwide to enforce the rule of law and the American ideal that every vote should count equally.
More blog posts