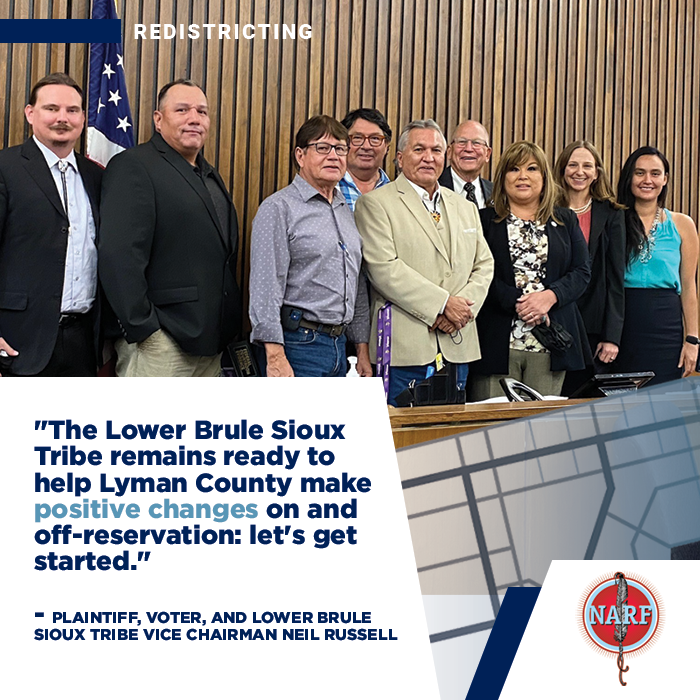 On Friday, September 2, 2022, the U.S. District Court for the District of South Dakota ruled in favor of the Lower Brule Sioux Tribe and individual Native voters in Lower Brule Sioux Tribe v. Lyman County. The court granted a preliminary injunction that will prevent Lyman County Board of Commissioners from delaying fair elections until 2026. The judge determined the county had not left enough time to prepare for fair elections in November, must commit to fair 2024 elections, and had proposed redistricting plans that violate the Voting Rights Act (VRA).
"Although the order recognized the lack of time for a remedy this November, the Court's order is a win for Native American voting rights," said NARF Staff Attorney Samantha Kelty. "Lyman County's delays prevented a VRA-compliant general election this year. We look forward to the opportunity to win at trial to ensure Native voters will finally have a voice on the Lyman County Board of Commissioners."
While over 40% of Lyman County voters live on the Lower Brule Reservation, an unfair at-large voting system ensured reservation voters could never elect a single candidate of their choice to the Board of Commissioners. To comply with Section 2 of the VRA, Lyman County must change its at-large voting system and create an opportunity for Lower Brule voters to elect two of the five county commissioners.
In May 2022, Lower Brule Sioux Tribe voters filed a lawsuit against Lyman County commissioners for delaying the rollout of fair election districts until 2026. This injunction requires Lyman County to comply with the federal law in time for 2024 elections. NARF, Public Counsel, the Law Office of Bryan Sells, the Law Office of Randy Seiler, and Manatt, Phelps & Phillips will continue seeking justice for the Lower Brule Sioux Tribe and Native voters.
Read More: Lower Brule Sioux Tribe et al v. Lyman County et al
More blog posts