NCAI and NARF Applaud President Biden's Nomination of California's First Ever Native American Federal Judge
Yesterday, President Joseph R. Biden announced his intent to nominate Sunshine Suzanne Sykes (Navajo Nation) to serve as a federal judge in the United States District Court for the Central District of California. Judge Sykes is President Biden's second Native American judicial nominee and, if confirmed by the U.S. Senate, would be the first American Indian or Alaska Native to serve as a federal judge in California and the sixth to actively serve as a federal district court judge.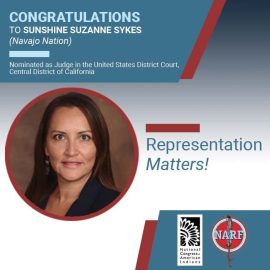 Judge Sykes has served as a California Superior Court Judge on the Superior Court of Riverside County since 2013, and currently presides over a civil litigation department and acts as the presiding judge of the appellate division. From 2005 to 2013, Judge Sykes served as Riverside County Deputy County Counsel. Before that, Judge Sykes was an attorney with California Indian Legal Services and a juvenile defense attorney with the Southwest Justice Center.
"NCAI strongly supports President Biden's nomination of Sunshine Suzanne Sykes, a citizen of the Navajo Nation and descendant of the Coyote Pass-Jemez Clan, to be the first-ever Native American judge to sit on the federal bench in the state of California," said National Congress of American Indians (NCAI) President Fawn Sharp. "As the third Native woman in history to be nominated as a federal judge, Judge Sykes will bring unparalleled experience in law and policy to our justice system. NCAI urges the swift confirmation of Judge Sykes as the nomination moves before the U.S. Senate."
NARF Executive Director John Echohawk reacted to Wednesday's news, "Judge Sykes possesses excellent qualifications to be a federal judge. She has extensive judicial experience and a strong record of public service. We applaud her nomination and urge her confirmation. She will be a strong addition to the federal judiciary in California." 
The Native American Rights Fund (NARF) and the National Congress of American Indians have long advocated for increasing Native representation in the federal court system. It is imperative to have federal judges who understand the unique relationship between the United States and Tribal Nations and who reflect a more diverse swath of the districts that they serve.
Read More: About the Judicial Selection Project
More blog posts