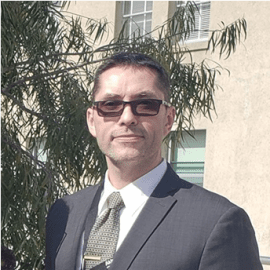 At NARF, we are dedicated to supporting the next generation of Indian law lawyers. One way we do this is through our Law Clerk Program. Today, we feature Tomasz (Tomek) Smolinski, a summer law clerk for our Washington, DC, office.
Tomek was born and raised in Warsaw, Poland, moved to the United States in the year 2000 to pursue a doctorate in computer science and engineering at the University of Louisville in Louisville, Kentucky, which he then followed with a postdoctoral fellowship at Emory University in Atlanta, Georgia.
Presently, Tomek is a professor of computer science and information technology at Delaware State University in Dover, Delaware, where, in addition to teaching various courses across all levels of the CS/IT curriculum, he heads a research laboratory specializing in the applications of artificial intelligence in the fields of biological and legal informatics.
In 2017, combining his lifelong passion for Native American history and cultures with a newfound interest in the law, Tomek enrolled in a part-time J.D. program at the Mitchell Hamline School of Law in St. Paul, Minnesota, where, now as a rising fourth-year (4L) law student, he follows the Indian law concentration track, and serves as an officer of a local chapter of the Native American Law Students Association.
Tomek is primarily interested in federal Indian law impact litigation, especially as it pertains to Native American treaty rights, and, given his background in science and technology, in the area of intellectual property protections in the context of traditional Indigenous knowledge.
Tomek hopes to expand his knowledge in these and other areas of Indian law through his summer clerkship at the Native American Rights Fund.
More blog posts