State Constitutions, PL 280, and Enabling Acts
On June 29, 2022, the U.S. Supreme Court, in a 5-4 decision, overturned the long-held understanding that states do not have authority to prosecute non-Indians who commit crimes against Indians in Indian country. The Court, in Castro-Huerta v. Oklahoma, held that "the Federal Government and the State have concurrent jurisdiction to prosecute crimes committed by non-Indians against Indians in Indian country" which strikes against tribal sovereignty and jurisdiction to protect tribal citizens. The consequences of the decision–for tribal nations, the federal government, and states–will take time to unravel.
NARF has pulled together resources to better understand the landscape of state jurisdiction in Indian Country. Below highlights the 35 states where there are federally recognized tribes and information on their enabling acts, constitutions, and PL-280 provisions. We hope this survey proves useful to advocates in Indian Country.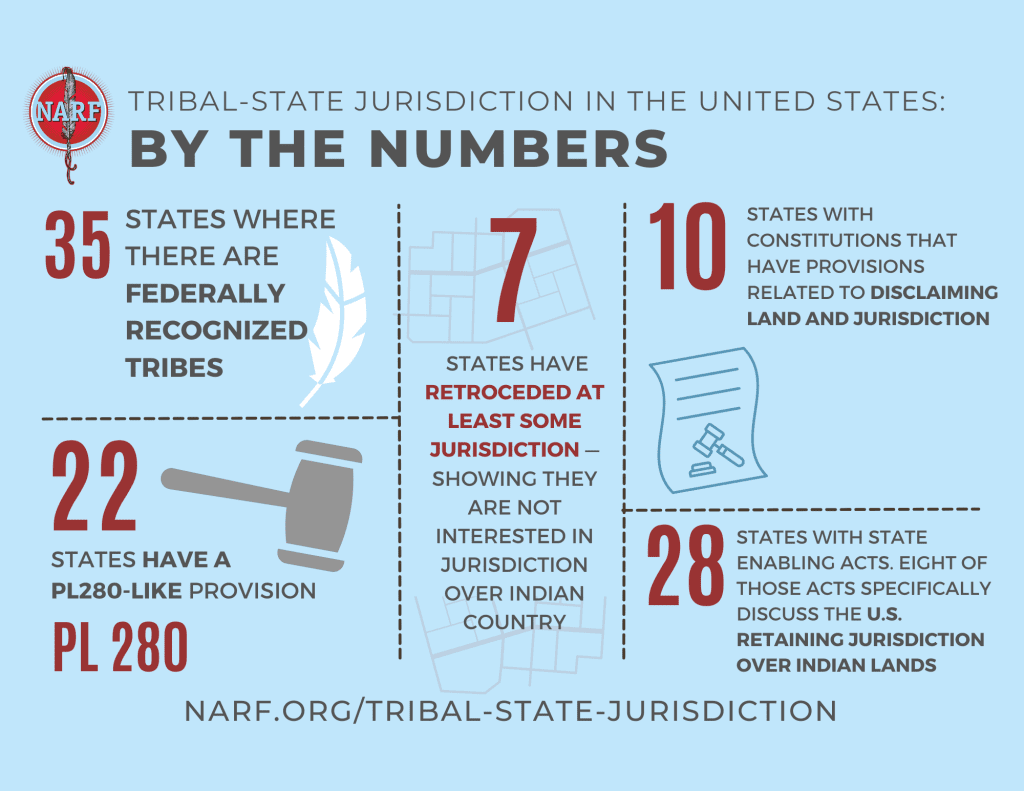 STATE GUIDES
---
Alabama
---
Alaska
---
Arizona
---
California
---
Colorado
---
Connecticut
---
Florida
---
Idaho
---
Iowa
---
Kansas
---
Louisiana
---
Maine
---
Massachusetts
---
Michigan
---
Minnesota
---
Mississippi
---
Missouri
---
Montana
---
Nebraska
---
Nevada
---
New Mexico
---
New York
---
North Carolina
---
North Dakota
---
Oklahoma
---
Oregon
---
Rhode Island
---
South Carolina
---
South Dakota
---
Texas
---
Utah
---
Virginia
---
Washington
---
Wisconsin
---
Wyoming