The Native American Rights Fund (NARF), Dorsey & Whitney, LLP (DW) and Porter Hedges LLP (PH) announce the recent settlement of Native American Church of North America and Sandor Iron Rope v. Transportation Security Administration, et al.; Case 5:17-cv-00108-OLG; In the United States District Court for the Western District of Texas, San Antonio Division.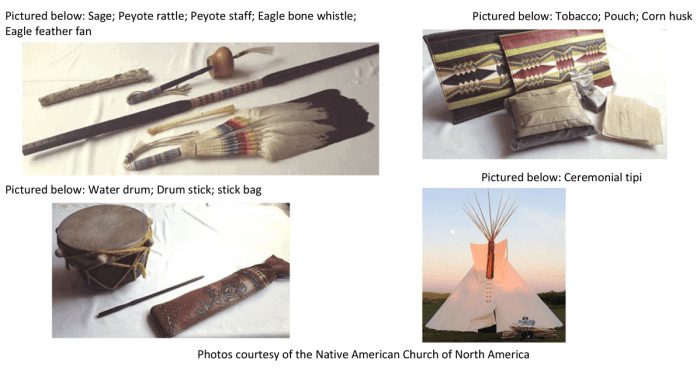 Lead counsel Forrest Tahdooahnippah (DW), NARF Staff Attorney Steven Moore, and Ray Torgerson (PH) filed the lawsuit on February 14, 2017, in San Antonio federal court asserting Religious Freedom Restoration Act and federal civil rights violations.  Following several meetings and conference calls to discuss and informally resolve the matter, a settlement agreement with the Transportation Security Administration (TSA) finally proved successful.
The lawsuit alleged that Mr. Iron Rope, the immediate past president of Native American Church of North America (NACNA), was harassed by TSA agents at the San Antonio airport while passing through security. Iron Rope was returning home to South Dakota after a conference near the peyote gardens located in South Texas. Ignoring his pleas, the TSA agents mistreated several sacred items in Iron Rope's possession.
As part of the settlement agreement, TSA will publish a Job Aid for internal education and a "Know Before You Go" fact sheet to educate about Native American religious items and create a less intrusive method for inspecting those items. TSA Passenger Support Specialists ("PSS") and Transportation Security Managers ("TSM") at the following airports will be directed to review the Job Aid:    Denver, Colorado (DEN); Phoenix, Arizona (PHX); Minneapolis-Saint Paul (MSP); Omaha, Nebraska (OMA); and Oklahoma City, Oklahoma (OKC). TSA also agreed, with advance notice, to provide the Job Aid materials to other airport personnel through which NACNA members carrying religious items plan to travel.
Additionally, the parties will collaborate on producing an educational webinar in the near future.  PSSs and TSMs at the following airports are required to view the webinar:  Albuquerque, New Mexico (ABQ); Durango, Colorado (DRO); Farmington, New Mexico (FMN); Great Falls, Montana (GTF); Laredo, Texas (LRD); McAllen, Texas (MFE); Minot, North Dakota (MOT); Rapid City, South Dakota (RAP); Sioux Falls, South Dakota (FSD); and San Antonio, Texas (SAT).
TSA committed to training new or promoted PSSs and TSMs on these matters for four years.  In addition, the materials will also be generally available to all TSA employees.  Finally, NACNA is invited to join the TSA's Multicultural Branch Coalition and participate in future conferences, meetings, and events.
Plaintiffs and their counsel believe that this settlement lays critical groundwork for improved education, increased sensitivity, and better working relationships between the TSA and Native Americans traveling with sacred items.
More blog posts