On Wednesday, July 27, the Native American Rights Fund (NARF) presented an oral argument on behalf of Larissa Waln before the 9th Circuit Court of Appeals in San Francisco. School and district officials refused to make religious accommodations allowing Waln to wear an eagle-feather and beaded graduation cap at her public high school graduation ceremony. The federal district court in Arizona dismissed the Waln's complaint in March 2021.
The appeal proceedings began at 9 a.m. Pacific with the arguments for Larissa Waln v. Dysart School District listed as 4th to be heard, in Court Room 1.
"We appealed to the 9th Circuit Court of Appeals because we believe the law should be clear that Native students should not be singled out for different treatment," said NARF Deputy Director Matthew L. Campbell. "Many students are allowed to wear their stoles and chords to show their academic achievement, and Native students should be no different."
ABOUT THE CASE:
Walking proudly with her family, Larissa Waln (Sisseton Wahpeton Oyate) prepared to enter the assembly area for her high school graduation ceremony. School officials singled Waln out from the crowd and said she could not participate because she was wearing an eagle plume.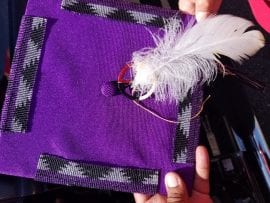 Even after Larissa and her family explained the spiritual and cultural significance of eagle feathers, the officials refused to allow her to even watch her graduation ceremony. To prevent this from happening to other young people, Waln and her family, represented by NARF and Rothstein Donatelli LLP, brought the case to court. "A student should not have to choose between practicing her religious and spiritual beliefs and celebrating her academic achievements," said NARF Staff Attorney David L. Gover.
In 2020, the Walns brought suit against the school district and staff for infringing on their right to freely exercise their religion and their freedom of speech. The Walns asked the court to declare the policies and practice of banning Native American students from expressing their religion and academic achievement, through beaded caps and eagle feathers or plumes, illegal.
When the federal district court in Arizona dismissed the Waln's complaint in March 2021, Native American students in the state were submitting requests to school boards across the state for regalia accommodations at their graduation ceremonies. Facing growing community pressure on this issue, Arizona Governor Doug Ducey signed HB2706 into law on April 20, making it illegal for Arizona public and charter schools to prevent Native American students from wearing regalia, such as eagle feathers and plumes, at graduation ceremonies.
When she heard about the new law, Larissa was "elated" at how this change would benefit future graduates. Her father Bryan Waln (Rosebud Sioux) also wondered why some educators would prefer court to working cooperatively with students and families on this issue. "It should not have taken legislation to allow tribal citizens to wear regalia at graduations in Arizona," said Larissa's father. "I never thought we'd ever have to protest and bring a lawsuit to protect our rights, but we did."
NARF hopes a favorable ruling in the appeals court will help Native American graduates nationwide. Each year, educational institutions across the country single out hopeful Native American students like Larissa from participating in their graduation ceremonies due to non-inclusive policies.
"Educators that choose to insist Native American students cannot wear ceremonial regalia like eagle feathers and plumes at graduation perpetuate the sad history of forced assimilation of Native youth," said Campbell, referring to boarding school policies in the U.S. "You should not have to disavow your religion, your culture, or your traditions to celebrate academic achievement with your classmates."
Students and their families can find resources and legal information about wearing eagle feathers at graduation at: https://www.narf.org/cases/graduation/. The page includes a brochure for school officials that would like to learn why these accommodation requests matter so much to their students.
Read More: Waln v Dysart School District
More blog posts