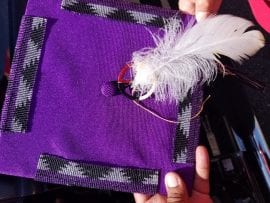 On December 9, 2022, the United States Court of Appeals for the Ninth Circuit reversed and remanded the district court's dismissal of the complaint in Waln v. Dysart School District. The Waln family sued the Dysart School District after high school senior Larissa Waln was not allowed to participate in her 2019 graduation wearing a traditionally beaded cap and blessed eagle feather. Meanwhile, other students in the Dysart School District wore secular decorations at graduations held in the same venue that day.
In 2021, the United States District Court for the District of Arizona dismissed the Waln's complaint without giving the family the opportunity to explain their case. The Waln's appealed that dismissal.
Last week, the appeals court found that the plaintiffs had shown that the District's policy was enforced in a selective manner and had plausibly alleged that there was different "treatment on the basis of viewpoint." They reversed the dismissal and sent the case back to the U.S. District Court for further review and to give Larissa her day in court.
"The 9th Circuit Court of Appeals acknowledged that the school district's graduation dress codes was enforced in a selective way. So often, Native American students like Larissa are forced to choose between their culture and their educational attainments. The law needs to be clear that Native students should not be singled out for different treatment," explained Native American Rights Fund Deputy Director Matthew Campbell.
The Waln family is represented in the case by NARF and Rothstein Donatelli LLP.
Read More: Waln v Dysart School District
More blog posts