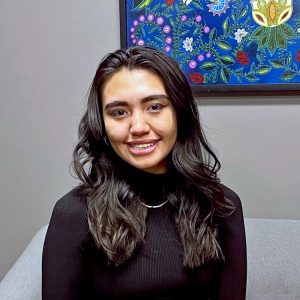 On April 18, 2023, Larissa Waln (Sisseton Wahpeton Oyate) and her father Bryan Waln (Rosebud Sioux) announced their agreement to settle their lawsuit against Dysart School District. The family filed the lawsuit after Larissa was barred in 2019 from joining her peers to participate in her high school graduation ceremony because she wore an eagle plume attached to her mortarboard with beadwork.
"My family filed this lawsuit to protect Native peoples' right to honor our religious beliefs and academic achievement, just as so many other students are permitted to," said Larissa. "It was an honor to be gifted the eagle plume for my graduation, something I will cherish forever. I hope going forward schools learn to appreciate and respect our tribal practices."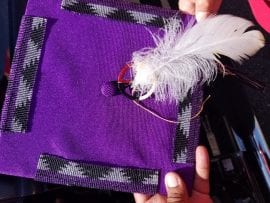 Bryan had prepared for Larissa's graduation, including having Larissa's paternal grandmother bless the plume in a religious ceremony on the Rosebud Sioux Reservation. Because wearing the delicate eagle plume under a covering or hat desecrates the sacred object, Bryan beaded his daughter's mortar board to attach the plume. When a school official saw the plume and beaded cap, the official prevented Larissa from entering the stadium to participate in her graduation ceremony.
"Public Schools should be lifting up our students and celebrating our Native cultural practices. These items are given in times of great honor and we can think of no better opportunity to give these to our children than when they earn their high school diploma," said Bryan.
The Ninth Circuit Court of Appeals held that Larissa and Bryan's federal claims had merit. This was the first time a federal appellate court has ruled on a Native students' right to wear religious and traditional regalia at graduation. The First Amendments' free exercise and free speech clause protect our students from being discriminated against. Many states also have laws to protect our students' right to wear these important items at graduation.
"Dress codes cannot target and alienate Native students, nor require them to sacrifice practicing their spiritual beliefs to celebrate their academic achievements," said Native American Rights Fund (NARF) Deputy Director Matthew Campbell. "It is unfortunate that in 2023 we are still having to deal with this issue. Modern school policies should celebrate Native traditions, comply with state and federal laws, and aim for inclusive ceremonies."
NARF and Rothstein Donatelli represented the Walns in the lawsuit, including its successful appeal to the U.S. Ninth Circuit.
"We commend the Walns for standing up for their rights and cultural practices. While Larissa cannot go back in time to attend her graduation ceremony, she can take comfort in the knowledge that future students will be able to celebrate their religious beliefs and their academic achievements," said Rothstein Donatelli Partner April Erin Olson.
Read More: Waln v Dysart School District
More blog posts